Toko Tani Buka Prospek Bisnis Pangan Murah di Jakarta, Infonya di tti.pertanian.go.id
Indonesia`s Kiosk Food into Business Opportunities of SMEs in Jakarta
Reporter : Gusmiati Waris
Editor : Cahyani Harzi
Translator : Dhelia Gani

PUBLISHED: Selasa, 14 Februari 2017 , 19:40:49 WIB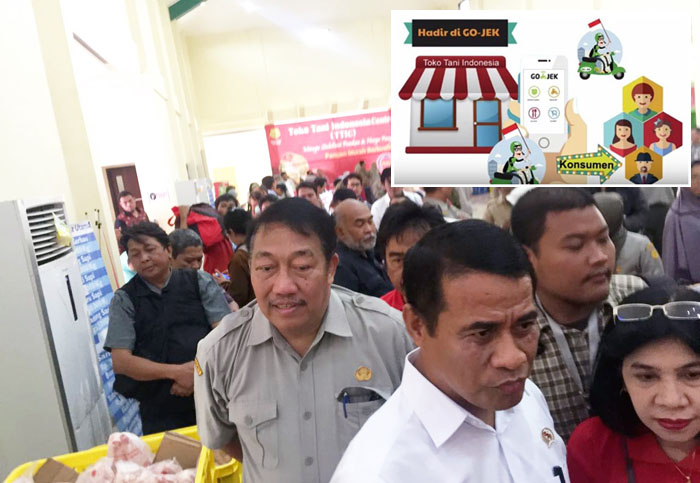 Dirjen Hortikultura Spudnik Sujono (belakang kiri) mendampingi Mentan Andi Amran Sulaiman saat pelepasan komoditas pangan TTI pekan lalu, dan layanan online TTI (Foto2: B2B/Gusmiati Waris & YouTube)
Jakarta (B2B) - Kementerian Pertanian RI menargetkan 2.000 Toko Tani Indonesia (TTI) di seluruh Indonesia, dan 1.000 di antaranya akan beroperasi di Jakarta, yang saat ini jumlahnya mencapai 65 unit di lima wilayah DKI Jakarta, dengan meningkatnya minat warga ibukota untuk menjadi pedagang pangan pokok, dengan syarat utama bermitra dengan gabungan kelompok tani (Gapoktan) sebagai pemasok, dan kedua belah pihak terikat hak dan kewajiban melalui perjanjian kerjasama bisnis.

"Fluktuasi pasokan dan harga pangan harus dapat diatasi dan dikendalikan agar ketersediaan pangan mencukupi dan harganya stabil. Hal ini sangat penting, karena jika dibiarkan dikhawatirkan dapat menimbulkan masalah pangan yang dapat mengganggu sendi-sendi pembangunan lainnya seperti ekonomi, sosial, hukum, keamanan dan bahkan ketahanan negara," kata Pelaksana Tugas (Plt) Badan Ketahanan Pangan (BKP) Kementan, Spudnik Sujono pada Senin (13/2) saat melepas pengiriman perdana komoditas pangan untuk 43 unit TTI mendukung 22 unit di seluruh DKI Jakarta yang beroperasi sejak pekan lalu (6/2).

Pekan lalu, Menteri Pertanian RI Andi Amran Sulaiman melepas pengiriman perdana menuju 22 unit TTI, dan berjanji akan terus memantau proses penjualan bahan-bahan pokok di Toko Tani Indonesia (TTI), karena berperan penting membantu konsumen mendapatkan komoditas pangan dengan harga terjangkau dan tetap menguntungkan petani.

Spudnik Sujono menambahkan, peranan TTI sebagai mitra petani dan membuka peluang bisnis usaha kecil dan menengah (UKM) bagi masyarakat yang berniat menjadi pengusaha UKM membuktikan bahwa upaya Kementan mengembangkan kegiatan pengembangan usaha pangan masyarakat (PUPM) melalui TTI disambut baik oleh semua kalangan untuk mewujudkan ketahanan pangan yang dicanangkan oleh Presiden RI Joko Widodo.

"Dalam operasionalnya, gabungan kelompok tani (Gapoktan) memasok bahan pangan strategis kepada TTI, kemudian dijual oleh TTI kepada konsumen dengan harga terjangkau," kata Spudnik yang juga menjabat Dirjen Hortikultura kepada pers.

Menurutnya, kegiatan perdagangan TTI secara tidak langsung berperan dalam mengatasi anjloknya harga pangan pada masa panen raya, dan tingginya harga pangan pada saat paceklik dan menjadi instrumen yang dibuat pemerintah untuk mengendalikan gejolak harga dalam situasi tertentu.

"Kehadiran TTI di pemukiman warga, diharapkan dapat memudahkan warga mendapatkan bahan pangan bermutu dengan harga terjangkau, karena didatangkan langsung dari petani yang tergabung di Gapoktan sehingga dapat memangkas rantai pasok pangan yang terlalu panjang.

TTI Online
Untuk mengantisipasi kebutuhan pangan masyarakat mendapatkan bahan pangan secara online, BKP di hari yang sama meluncurkan TTI Online yang sekaligus berfungsi sebagai tempat pendaftaran bagi warga yang ingin menjadi mitra bisnis BKP, untuk membuka TTI di wilayah tempat tinggalnya dengan mengakses laman tti.pertanian.go.id.

"TTI Online dibuat untuk menginformasikan kepada konsumen tentang lokasi TTI dan jenis bahan pangan apa saja yang tersedia disertai daftar harga," kata Kasubbag Humas dan Tata Usaha BKP, Eddy Suntoro.

Menurutnya, BKP Kementan juga mengembangkan layanan TTI mobile yang akan menyalurkan bahan pangan ke pemukiman warga, dan pada Maret 2017 ditargetkan tersedia 10 mobil yang akan menyalurkan bahan pangan pokok di Jabodetabek.

"TTI tidak hanya pada lokasi yang ada, tapi juga ada TTI mobile dengan jangkauan lebih luas, terutama seperti di rumah susun yang butuh pelayanan yang memadai," kata Eddy Suntoro.
Jakarta (B2B) - Indonesian Agriculture Ministry targets 2,000 the food kiosk, locally known as the Toko Tani Indonesia (TTI) and 1,000 among which will operate in Indonesia capital city, there are currently 65 units in there are currently 65 units after the ministry gave an opportunity become food staples traders after signing a business cooperation agreement with farmer groups, it supports the ministry's policy provides quality basic commodities at affordable prices to consumers.

"Fluctuations in supply and food prices should be addressed and controlled so that food availability is adequate and the price is stable. This is very important, if overlooked will cause food problems interfere with other sectors such as economic, social, legal, safety and the state security," said Acting Agency for Food Security, Spudnik Sujono on Monday (2.13.17) while he launched of staple foods to 43 unit of the TTI.

Last week, Agriculture Minister Andi Amran Sulaiman oing the same thing for 22 units of TTI, and he promised to monitor the process of because it helps consumers get food commodities at affordable prices and remain profitable for farmers.

Mr Sujono he TTI is a partner of farmers and opens business opportunities for small and medium enterprises (SMEs) to people who intend to become entrepreneurs of SMEs, and prove that ministerial efforts to develop business development activities of food through the TTI because it is supported by all parties realize the food security proclaimed by President Joko Widodo.

"In operation, the farmer groups supply staples to the TTI, then sell to consumers at affordable prices," Mr Sujono who also served as Director General of Horticulture told the press.

According to him, the TTI activities indirectly contribute to overcome the drop in food prices during the harvest, rising food prices in the dry season, and became the instrument of government to control price volatility.

"The existence of the TTI in residential areas, are expected to facilitate the consumers get quality food at affordable price, because it directly from farmer groups so that it can cut the food supply chain.

Online Services
In order to anticipate consumer demand via online, Indonesia's Agency for Food Security on the same day launched the TTI Online which also functions as a registration for residents who want to become business partners of the TTI, for opening grocery store in residential areas by the page of tti.pertanian.go.id.

"The TTI Online made to inform consumers about the location, food commodities, and price list," said spokesman of Indonesia's Agency for Food Security, Eddy Suntoro.

According to him, the ministry of agriculture also develop mobile services to meet consumer demand, and in March 2017 provided 10 cars targeted for the distribution of food staples in Jakarta and surrounding areas.

"The TTI also provides mobile services with wider coverage, especially for Jakarta residents who live in public housing," Mr Suntoro said.