Reformasi Pupuk Bersubsidi, Ditjen PSP Kementan `Update Data` 500 Ribu Poktan
Indonesian Govt Update Data of Farmers before Distribution Subsidized Fertilizers
Reporter : Gusmiati Waris
Editor : Cahyani Harzi
Translator : Dhelia Gani

PUBLISHED: Rabu, 21 Desember 2016 , 20:21:00 WIB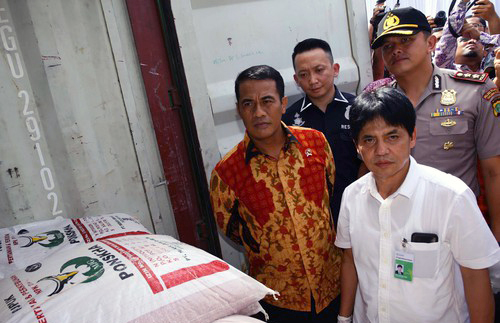 Mentan Andi Amran Sulaiman (kiri) dan Dirut PIHC Aas Asikin Idat memantau penyaluran pupuk bersubsidi di daerah (Foto: istimewa)
Jakarta (B2B) - Pemerintah RI melakukan pemutakhiran data (update) dan pembenahan terhadap penyusunan Rencana Definitif Kebutuhan Kelompok (RDKK) pupuk agar tepat sasaran, dan saat ini sekitar 500.000 kelompok tani (Poktan) atau hampir 15 juta petani masuk database Kementerian Pertanian (Kementan) sebagai target sasaran penyaluran pupuk bersubsidi.

Direktur Pupuk dan Pestisida, Muhrizal Sarwani mengatakan Direktorat Jenderal Prasarana dan Sarana Pertanian (PSP) Kementan terus berupaya meningkatkan efektifitas dan efisiensi program subsidi pupuk.

"Subsidi pupuk sampai saat ini masih dilakukan oleh produsen pupuk, yang secara operasinal dilakukan oleh anak perusahaan PT Pupuk Indonesia Holding Company (PIHC) namun reformasi penyaluran pupuk bersubsidi terus dilakukan," kata Muhrizal Sarwani melalui pernyataan tertulis pada Jumat (9/12).

Langkah pertama reformasi tersebut melalui Badan Kebijakan Fiskal di Kementerian Keuangan (Kemenkeu) bersama kelompok kerja (Pokja) pupuk dan Kementan tengah melakukan kajian penyaluran subsidi pupuk di beberapa daerah, kemudian diikuti update data RDKK pupuk.

Mitra perbankan yang memfasilitasi penebusan pupuk bersubsidi agar tepat sasaran melalui Kartu Tani yakni Bank Rakyat Indonesia (BRI), BNI, dan Bank Lampung. Saat ini Bank BRI sedang melakukan uji coba di Kabupaten Batang, Provinsi Jawa Tengah dan Kabupaten Indramayu di Provinsi Jawa Barat. Sementara Bank Lampung memfasilitasi penebusan pupuk bersubsidi di Lampung Selatan.

"Kementan dan PIHC melakukan kerjasama dengan TNI AD untuk melakukan pengawasan terhadap penyaluran pupuk bersubsidi, yang berdampak pada penurunan temuan penyelewengan hingga 55% maupun laporan dugaan pelanggaran melalui SMS center," kata Muhrizal.

Dia menambahkan, PIHC juga telah menyiapkan sistem monitoring penyaluran pupuk bersubsidi hingga ke tingkat kios pupuk, sehingga stok maupun penyaluran pupuk dapat dipantau real time untuk mencegah penyelewengan.
Jakarta (B2B) - Indonesian government do update data for the distribution of subsidized fertilizers through definitive plan needs groups throughout the country, currently about 500,000 farmer groups or nearly 15 million farmers refer to Agriculture Ministry database.

Director of Fertilizer and Pesticide, Muhrizal Sarwani said Directorate General of Agriculture Infrastructure and Facilities in the ministry seeks to improve effectiveness and efficiency of subsidized fertilizer program.

"The fertilizer subsidy to this day by manufacturers, which is operationally carried out by a subsidiary of Pupuk Indonesia Holding Company or the PIHC, but the distribution reform will continue," Mr Sarwani said here through a written statement recently.

The first step of reforms through the Fiscal Policy Agency of Finance Ministry with special working group, and Agriculture Ministry is conducting review of distribution in some regions followed by an update data.

Banking partners that facilitates redeem subsidized fertilizers for the right target through the Tani Card of the BRI Bank, BNI Bank and Lampung Bank. BRI Bank is currently being tested in Batang District of Central Java Province and Indramayu District of West Java Province. While Lampung Bank facilitate redeem in South Lampung District.

"The Agriculture Ministry and PIHC cooperate with the army to supervise the distribution of subsidized fertilizers, which decrease the offenses up to 55% and monitoring through SMS center," Mr Sarwani said.

He added, the PIHC also have set up monitoring system to stall fertilizer distribution, so that it can monitor supply and distribution in real time to prevent diversion.