PRIOQ KLIK dan Ini Mobil SIANI Raih Top 99 Inovasi Pelayanan Publik, Ungguli 3.054 Inovasi
Innovation of Indonesian Agriculture Ministry Achieved the Best Certificates
Reporter : Gusmiati Waris
Editor : Cahyani Harzi
Translator : Dhelia Gani

PUBLISHED: Rabu, 31 Mei 2017 , 21:36:00 WIB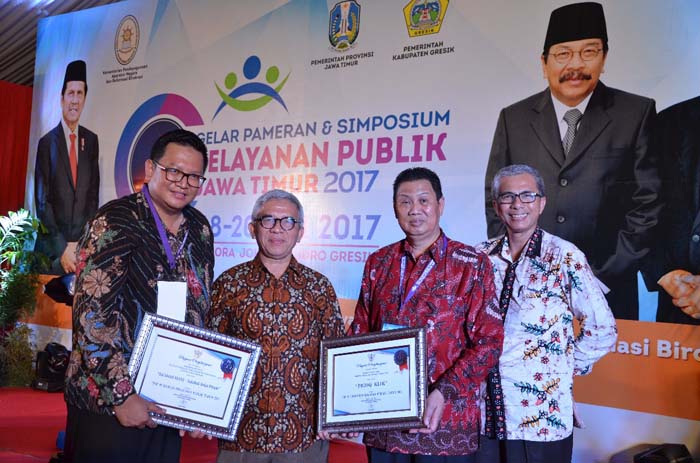 Kepala Biro Organisasi dan Kepegawaian Kementan, Abdul Halim (ke-2 kiri) bersama pimpinan UPT Kementan yang meraih penghargaan (Foto: Humas Kementan)
Jakarta (B2B) - Menteri Pendayagunaan Aparatur Negara - Reformasi Birokrasi (Menpan-RB) Asman Abnur menyerahkan sertifikat Top 99 Inovasi Pelayanan Publik 2017 tingkat nasional kepada Kementerian Pertanian RI atas pengembangan inovasi PRIOQ KLIK oleh Balai Besar Karantina Pertanian Tanjung Priok, dan Ini Mobil SIANI oleh Balai Besar Perbenihan dan Proteksi Tanaman Perkebunan Surabaya - Ditjen Perkebunan setelah bersaing dengan 3.054 inovasi lainnya, dan Presiden RI Joko Widodo dijadwalkan akan menyerahkan penghargaan kepada para pemenang pada awal Agustus 2017.

"Tidak mudah meraih penghargaan Top 99 Inovasi Pelayanan Publik tingkat nasional, karena harus bersaing dengan 3.054 hasil inovasi lain, dan harus melewati tahapan seleksi administrasi hingga penilaian oleh tim panel independen," kata Menteri Asman Abnur usai menyerahkan sertifikat pemenang di Surabaya belum lama ini.

Inovasi PRIOQ KLIK untuk memberikan kepastian pelayanan permohonan pemeriksaan karantina hanya dengan satu kali klik, yang berlangsung transparan dan akuntabel dan cepat. Sementara inovasi Ini Mobil SIANI dikembangkan untuk mendukung penyediaan benih unggul dan konsultasi pertanian, memanfaatkan mobil yang dirancang khusus menyambangi petani pekebun ke lokasi kebunnya untuk mendapatkan benih unggul sekaligus berkonsultasi dengan penyuluh yang bertugas.

Kepala Biro Organisasi dan Kepegawaian Kementan, Abdul Halim mengatakan sertifikat penghargaan bagi kedua unit pelaksana teknis (UPT) bukan sebagai tujuan akhir, karena tujuan inovasi tersebut untuk memberikan pelayanan terbaik bagi petani dan pengguna layanan yang disediakan oleh Kementan.

"Inovasi ini harus bisa direplikasi dan mampu menginspirasi UPT lain untuk terus memberi pelayanan terbaik," kata Abdul Halim.

Menurutnya, Kementan pernah mendapat penghargaan serupa pada 2014 untuk lima inovasi, dari kategori kementerian/lembaga pemerintah.

Kompetisi Inovasi
Kementerian PAN-RB sejak 2014 menyelenggarakan kegiatan ´kompetisi inovasi pelayanan publik´ yang diikuti oleh kementerian/lembaga pemerintah, BUMN dan pemerintah daerah yang bertujuan mewujudkan ´one agency and one innovation program´ dengan kewajiban mengembangkan minimal satu inovasi setiap tahun.

Kompetisi inovasi tahun ini dibagi menjadi empat kategori yakni tata kelola pemerintahan, pemanfaatan teknologi informasi dan komunikasi, perbaikan kesejahteraan sosial dalam penyelesaian masalah-masalah sosial, dan pelayanan langsung kepada masyarakat.

"Inovasi Ini Mobil SIANI masuk dalam kategori ketiga, dan PRIOQ KLIK masuk dalam kategori keempat," kata Abdul Halim.
Jakarta (B2B) - Indonesian Administrative Empowerment and Bureaucratic Reform Minister Asman Abnur submitted national category certificates of the 2017 Top 99 Public Service Innovation to the agriculture ministry for PRIOQ KLIK innovation by the Tanjung Priok Agriculture Quarantine Center, and Ini Mobil SIANI by the Surabaya´s Plantation Hatchery and Plantation Protection Center after beating 3,054 other innovations, and President Joko Widodo is scheduled to award the winner in early August 2017.

"It is not easy to win the Top 99 Public Service Innovation national certificates, having to compete with 3,054 other innovations, because it has to pass the administrative and assessment selection by an independent panel team," said Minister Abnur after submitting the certificate winners in Surabaya recently.

The PRIOQ KLIK innovation to provide quarantine service request confirmation by just one click, that is transparent, accountable and fast. While the Ini Mobil SIANI were developed support the provision of superior seed and agricultural consulting, with car specially designed to visit farmers who want get superior seeds and consultation with agricultural extension workers on duty.

Head of Organization and Personnel Bureau of Agriculture Ministry, Abdul Halim said the certificates for technical service units in ministry not as an end, because the aim of innovations to provide the best services for farmers and users of services provided by the ministry.

"This innovation must be replicated and inspire to provide the best service," Mr Halim said.

According to him, the agriculture ministry has received similar certificates in 2014 for five innovations for category of ministries/government agencies.

Innovation Competition
The Indonesian goverment since 2014 has organized ´public service innovation competition´ which is followed by ministries/government agencies, state-owned enterprises and local governments that aim to realize ´one agency and one innovation program´ with the obligation to develop at least one innovation each year.

This year´s innovation competition is divided into four categories: governance, utilization of information and communication technology, improvement of social welfare in solving social problems, and direct service to the community.

"The innovations of Ini Mobil SIANI are in the third category, and PRIOQ KLIK for the fourth category," Mr Halim said.