Mentan Buka `Policy Dialogue` Alih Teknologi Pembangunan Pertanian
CAPSA Policy Dialogue Opened by Indonesian Agriculture Minister
Reporter : Gusmiati Waris
Editor : Cahyani Harzi
Translator : Dhelia Gani

PUBLISHED: Selasa, 10 Februari 2015 , 22:05:11 WIB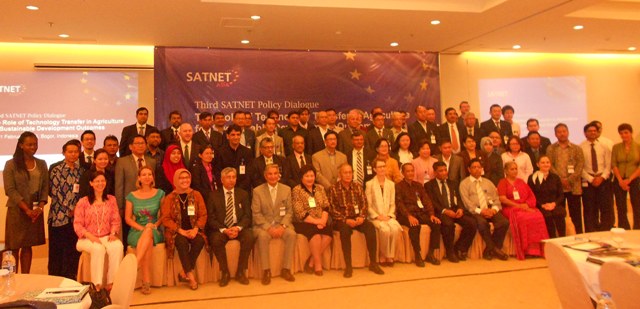 Sekretaris Jenderal Kementerian Pertanian RI, Hari Priyono (duduk ke-7 kiri) bersama para peserta `Policy Dialogue` yang diselenggarakan CAPSA di Bogor, Jabar (Foto: B2B/Mya)
Bogor, Jawa Barat (B2B) - Kebutuhan global terhadap pangan akan meningkat seiring pertambahan jumlah penduduk dunia dan perubahan pola makan. Produksi pangan dunia diperkirakan harus meningkat 50% pada 20130 untuk memenuhi kebutuhan pangan global. Peran alih teknologi sangat penting dalam meningkatkan produktivitas di sektor pertanian. Di banyak negara, khususnya Asia Selatan dan Timur, produktivitas pertanian meningkat, yang sebagian besar sebagai hasil dari adopsi teknologi baru pertanian.

"Bagi Indonesia, peningkatan produksi pertanian, sekitar 80% diperkirakan berasal dari investasi produksi tanaman pangan melalui peningkatan produksi dan intensitas tanam," kata Menteri Pertanian, Amran Sulaiman melalui kata sambutannya yang dibacakan Sekretaris Jenderal Kementerian Pertanian RI, Hari Priyono saat membuka Policy Dialogue tentang Peranan Alih Teknologi Sektor Pertanian untuk Pembangunan Berkelanjutan di Bogor, Jawa Barat pada Selasa.

Pertemuan dua hari ini diselenggarakan oleh Perserikatan Bangsa-Bangsa (PBB) the Centre for Alleviation of Poverty through Sustainable Agriculture (CAPSA), lembaga regional yang berada di bawah United Nations Economic and Social Commission for Asia and the Pacific (ESCAP), yang dihadiri oleh para petinggi di bidang penelitian dan penyuluhan pertanian dari Asia dan Pasifik, perwakilan dari masyarakat, akademisi, sektor swasta serta organisasi internasional untuk mengetahui langkah-langkah yang diperlukan dalam mengembangkan dan memperkuat proses alih teknologi pertanian di tingkat nasional maupun regional.

"Saya sangat berharap bahwa pertemuan ini akan menghasilkan rekomendasi penting bagi pemerintah untuk mempromosikan dan mengelola inovasi teknologi, dan memfasilitasi jaringan regional untuk mendukung inovasi dengan memperkuat Dialog Selatan-Selatan dan pemahaman intra regional terhadap teknologi pertanian berkelanjutan dan memfasilitasi perdagangan sektor agribisnis," kata Mentan Amran Sulaiman.

Dia menambahkan, alih teknologi berperan penting dalam perekonomian secara keseluruhan. Alih teknologi dapat berlangsung vertikal dan horisontal. Alih teknologi vertikal mengacu pada alih teknologi melalui penelitian dasar untuk penelitian terapan, pengembangan, dan masing-masing produksi.

"Alih teknologi horisontal mengacu pada gerakan dan pemanfaatan teknologi yang digunakan di satu kawasan, organisasi atau konteksnya dengan kawasan lain," kata Amran Sulaiman seperti disampaikan Hari Priyono.
Bogor, West Java (B2B) - The world faces an increasing demand for food resulting from rising population and changes in dietary patterns. It has been predicted that food production will need to increase by 50% by 2030 in order to feed everyone. Technology transfer is crucial in enhancing productivity in this sector. In many parts of the world - particularly South and East Asia - growth in agricultural productivity has been rapid, largely as result of the extensive adoption of new agricultural technologies.

"For Indonesia, it is projected that 80% of the required increase would be from intensification of crop production, particularly higher yields and cropping intensity," said Indonesian Agriculture Minister, Amran Sulaiman through his opening remarks that was read by the Secretary General of Agriculture Minister, Hari Priyono while opened Policy Dialogue on the Role of Agricultural Sector Technology Transfer for Sustainable Development here on Tuesday.

The two-day meeting organized by the United Nations (UN) from the Centre for Alleviation of Poverty through Sustainable Agriculture (CAPSA), a regional agency under the United Nations Economic and Social Commission for Asia and the Pacific (ESCAP), which was attended by The main researchers and agricultural extension workers of the Asia Pacific region, representatives of the community, academics, the private sector and international organizations to establish important steps in developing and strengthening agricultural technology transfer process at national and regional levels.

"I really hope that this meeting will come up with recommendations for the government in promoting and managing innovation, and facilitating regional networking to support innovation by strengthening South-South dialogue and intraregional learning on sustainable agriculture technologies and agrofood trade facilitation," Mr Sulaiman said.

He added, the role of technology transfer derives from the significant importance of agriculture in their overall economy. Technology transfer can be vertical or horizontal. Vertical transfer refers to transfer technology from basic research to applied research, development, and production respectively.

"Horizontal technology transfer refers to the movement and use of technology used in one place, organization, or context to another place," Mr Sulaiman said as delivered by Mr Priyono.