Satgas Pangan Dapati 79 Kasus Pelanggaran di Seluruh Indonesia
Indonesian Police Support the Supervision of Food Distribution accross the Country
Reporter : Gusmiati Waris
Editor : Cahyani Harzi
Translator : Dhelia Gani

PUBLISHED: Jum'at, 02 Juni 2017 , 23:49:46 WIB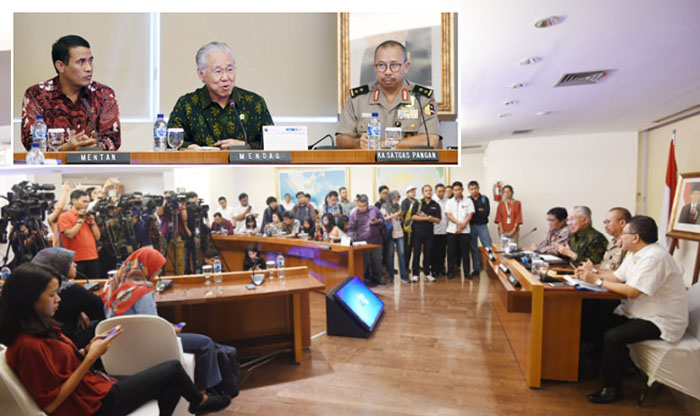 Keterangan pers usai rakor di Kemendag yang dipimpin Mendag Enggartiasto Lukita dan dihadiri Mentan Andi Amran Sulaiman dan Ketua Satgas Pangan Irjen Pol Setyo Wasisto (Foto2: istimewa)
Jakarta (B2B) - Kepolisian RI (Polri) mendapati 79 kasus pelanggaran komoditas pangan pada Mei 2017 dari hasil temuan Satuan Tugas (Satgas) Pangan, kasus terbanyak adalah 41 penyalahgunaan gula merah yang tidak layak konsumsi. Ketua Satgas Pangan Irjen Pol Setyo Wasisto mengatakan pihaknya akan melakukan evaluasi pada Senin pekan depan (8/6) untuk mencegah tindakan penimbunan yang kerapkali dilakukan importir.

"Kasus yang ditangani Polda ada 12 kasus bahan pokok, Polres 27 kasus dan Mabes Polri 2 kasus sehingga totalnya ada 41 kasus. Tambahan di luar bahan pokok, tapi masih berkaitan bahan pangan, Polda menangani 12 kasus, di Polres 26 kasus. Totalnya 79 kasus," kata Setyo Wasisto kepada pers usai rapat koordinasi Menteri Perdagangan Enggartiasto Lukita dan Menteri Pertanian Andi Amran Sulaiman di Jakarta pada Rabu (31/5).

Menurutnya, sebagian kasus sudah masuk ke tahap penyidikan, namun dia menolak memberikan perincian.

Dia menambahkan, Satgas Pangan akan mengadakan evaluasi pada Senin pekan depan, fokus pada distribusi dan penyimpanan komoditas pangan sehingga dapat mencegah upaya penimbunan pangan yang memicu kenaikan harga di tingkat konsumen.

Satgas Pangan dibentuk pada Mei 2017 bertugas melakukan pengawasan distribusi barang maupun pemantauan harga bahan pokok strategis di tingkat petani, jalur distribusi hingga ke tingkat konsumen.

"Ini baru pertama kali Satgas Pangan ditugaskan melakukan pengawasan, biasanya hanya dicek saja. Ini harus dibiasakan terhadap harga barang tertentu, karena menyangkut hajat hidup konsumen sehingga harus dilakukan pengendalian harga yang tetap menguntungkan petani dan terjangkau konsumen," kata Irjen Pol Setyo Wasisto.
Jakarta (B2B) - The Indonesian Police (Polri) found 79 cases of food commodity violations in May 2017 from findings of the food task unit called the Satgas Pangan, most cases were 41 misuse of brown sugar. The Head of Satgas Pangan Inspector General of Police Setyo Wasisto said it will conduct an evaluation on Monday next week (June 8) prevent the hoarding by food importers.

"There were 12 cases in the province, 27 cases in district and city level, and two cases were dealt by the police headquarters or a total of 41 cases. not the case of foodstuffs still handled by provincial police 12 cases and 26 cases by resort police level. Total 79 cases," Mr Wasisto told reporters here on Wednesday (May 31).

According to him, some cases have entered the stage of investigation, but he refused to provide details.

He added that the Satgas Pangan will conduct an evaluation on Monday next week, focusing on distribution and storage of food commodities so as to prevent food stockpiling that triggers price increases at the consumer level.

The Satgas Pangan was established in May 2017 to supervise the distribution of goods and monitoring the price of strategic staples at the farm level, the distribution channel to the consumer level.

"This is the first time because the taskforce is usually only monitored, because it is related to consumer's interest," Wasisto said.