Dirjen Hortikultura Jawab Kecaman Ridwan Saidi di ILC TVOne
Director General of Horticulture Answer Critics Ridwan Saidi in ILC TVOne
Reporter : Gusmiati Waris
Editor : Heru S Winarno
Translator : Parulian Manalu

PUBLISHED: Selasa, 19 Maret 2013 , 23:50:00 WIB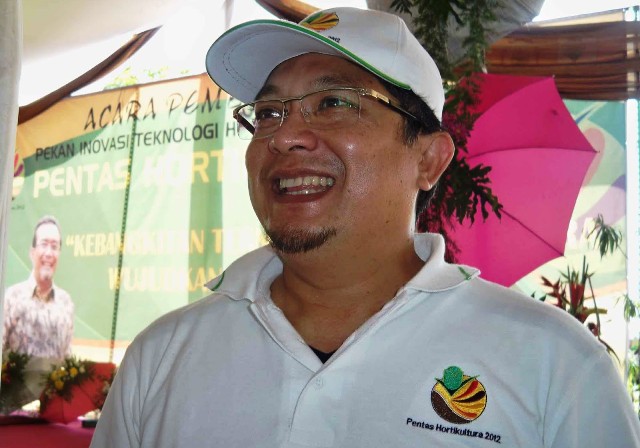 Dirjen Hortikultura Ibrahim Hasanudin Kementerian Pertanian (Foto: Istimewa)
Jakarta (B2B) - Pemerintah berupaya maksimal meningkatkan produksi bawang merah dari petani, dengan mendukung penyediaan gudang pendingin untuk mengantisipasi penurunan produksi bawang merah yang terjadi setiap tahun di triwulan pertama akibat musim penghujan. Pemerintah mengalokasikan anggaran Rp800 miliar di 2013, untuk mendukung penyediaan gudang pendingin bagi 323 komoditas hortikultura, khususnya untuk bawang merah.

Penegasan tersebut dikemukakan Direktur Jenderal Hortikultura Kementerian Pertanian, Hasanudin Ibrahim menjawab kecaman budayawan Ridwan Saidi dalam program Indonesia Lawyers Club (ILC) di TVOne, Selasa malam (19/3). Ridwan Saidi menuding Kementerian Pertanian gagal mengantisipasi kenaikan harga bawang merah dan bawang putih yang melambung akhir-akhir ini.

"Kritik itu akan membuat kita lebih tertantang lagi untuk menjalankan apa yang sudah direncanakan Kementerian Pertanian. Masalah bawang harus dilihat secara jernih dan komprehensif, khususnya terkait dengan kondisi alam di Indonesia yang dipengaruhi dua musim, yakni musim hujan dan kemarau," kata Hasanudin Ibrahim yang menjawab dengan tenang kecaman Ridwan Saidi.

Dalam kesempatan tersebut turut hadir Direktur Jenderal Peternakan dan Kesehatan Hewan Syukur Iwantoro dan Pelaksana Tugas (Plt) Direktur Jenderal Pengolahan dan Pemasaran Hasil Pertanian, Haryono.

Dirjen Hortikultura menambahkan, produksi bawang petani di triwulan pertama dipastikan turun akibat musim hujan, karena petani bawang memilih menanam padi. Petani bawang menyadari secara alamiah menanam bawang di musim hujan dipastikan merugi karena tanaman rusak akibat hujan.

Gudang Pendingin
Pernyataan Hasanudin Ibrahim didukung oleh Ketua Dewan Bawang Nasional, H Sunarto Atmo Taryono yang menyatakan produksi petani bawang merah di triwulan pertama setiap tahun dipastikan menurun akibat musim hujan.

"Kalau boleh jujur, kami dari Dewan Bawang berharap harga bawang sekarang ini tidak turun lagi hingga tiga bulan ke depan, sehingga petani pun untung," kelakar Sunarto yang disambut tawa peserta ILC yang dipandu Karni Ilyas.

Dirjen Hortikultura menambahkan, produksi bawang merah di triwulan kedua dan ketiga meningkat melebihi kebutuhan bulanan nasional dengan perkiraan hasil panen mencapai mencapai 80 ribu ton hingga 85 ribu ton. Kelebihan produksi bawang merah tersebut dapat dimanfaatkan untuk mengantisipasi kekurangan produksi di triwulan pertama setiap tahun apabila petani memiliki gudang pendingin (cold storage).

"Itu sebabnya pak Narto dari Dewan Bawang Nasional bilang antisipasi produksi untuk menstabilkan harga dapat dilakukan apabila petani memiliki cold storage," kata Hasanudin Ibrahim.

Karni Ilyas pun bertanya, kenapa Kementerian Pertanian tidak menyediakan gudang pendingin? "Tidak semuanya kan pemerintah yang harus membiayai. Kami membantu mereka. Koperasi boleh kita bantu gudang pendingin. Insya Allah bulan April 2013 akan terealisir dan kita minta bank untuk membantu pembiayaannya," jawab Dirjen Hortikultura.

Karni Ilyas pun bertanya lagi, berapa biayanya? Dirjen Hortikultura pun menjawab: "Hortikultura itu ada 323 komoditas. Kita diberikan pak Anton, mula-mula dulu Rp600 miliar lalu meningkat menjadi Rp800 miliar untuk seluruh komoditas."

Pernyataan Hasanudin dibenarkan Anggota Komisi IV DPR, Anton Sihombing, yang duduk di seberang mejanya dengan anggukan kepala.
Jakarta (B2B) - Government attempts to increase production of onion farmers by supporting the provision of cold storage to anticipate the decline in onion production that occur each year in the first quarter due to the rainy season. The government allocated a budget of Rp800 billion in 2013, to support the provision of cold storage for 323 horticultural commodities, especially onions.

The assertion was presented the Director General of Horticulture, Ministry of Agriculture Hasanudin Ibrahim replied cultural criticism, Ridwan Saidi in the Indonesia Lawyers Club (ILC) on TVOne on Tuesday night (19/3). Ridwan Saidi accused the Ministry of Agriculture failed to anticipate the rise in prices of onion and garlic have soared lately.

"Critics will make us more challenged again to execute what has been planned for the Ministry of Agriculture. Problem onions to be seen clearly and comprehensively, particularly those related to natural conditions in Indonesia are influenced by two seasons, the wet and dry seasons," said Ibrahim Hasanudin the answer Ridwan Saidi critics with quiet.

Also present at the occasion the Director General of Livestock and Animal Health, Gratitude Iwantoro and the Care Taker (Acting) Director General of Processing and Marketing of Agricultural Products, Haryono.

Horticulture Director General added that the production of onion farmers in the first quarter ascertained fell due to the rainy season, as farmers chose to plant rice. Onion farmers realize, naturally grow onions in the rainy season as crop losses ascertained damaged by the rain.

Cold Storage
Ibrahim Hasanudin statement is supported by the National Chairman of the Board Onions, H Sunarto Atmo Taryono stated production of onion farmers in the first quarter of each year due to the rainy season ascertained decline.

"If tell the truth, the board of hoped onion prices today do not go down again until the next three months, so that farmers can be profitable," said Sunarto joke, which laughter greeted ILC participants were guided Karni Ilyas.

Horticulture Director General added, onion production in the second quarter and the third monthly increase beyond national requirements with an estimated yield reached to 80 thousand tons to 85 thousand tons. Excess production of onion can be used to anticipate the lack of production in the first quarter of each year if the farmer have a cold storage.

"That´s why Mr. Narto of the Board of the National Onion says anticipate production to stabilize prices can be realize if a farmer have a cold storage," said Ibrahim Hasanudin.

Karni Ilyas was asked why the Ministry of Agriculture does not provide cold storage? "Not everything the government must finance. We help them. Cooperative may we help cold storage. Insha Allah in April 2013 will be realize and we ask banks to help funding," said Director of Horticulture.

Karni Ilyas was asked again, at what cost? Horticulture Director General replied: "There´s Horticulture 323 commodities. We granted Mr. Anton, first rose to Rp600 billion and Rp800 billion for all commodities."

A statement justified Hasanudin Commission IV, Anton Sihombing, who sat across the table with a nod of the head.