Bawang Merah Solok Rp11.000 per Kg, Petani dan Senator Protes Bulog
Indonesia`s Solok Shallots Prices Fell to 11 Thousand Rupiah per Kg
Reporter : Gusmiati Waris
Editor : Cahyani Harzi
Translator : Dhelia Gani

PUBLISHED: Selasa, 30 Mei 2017 , 02:40:22 WIB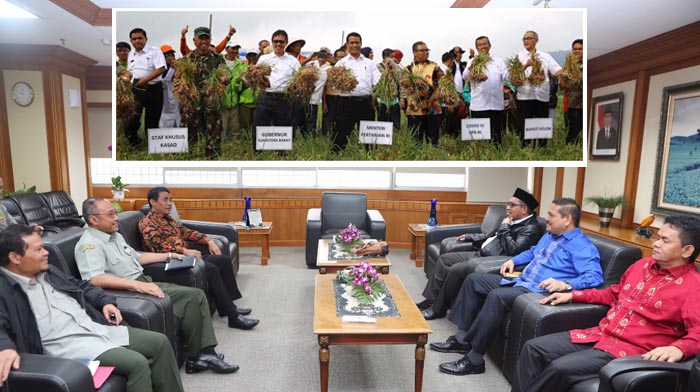 Mentan Andi Amran Sulaiman (batik merah) menerima kunjungan petani dan senator DPD didampingi Dirjen PSP Pending Dadih Permana (ke-2 kanan) dan panen raya di Kabupaten Solok (inset) Foto2: Humas Kementan
Jakarta (B2B) - Petani bawang merah dari Kabupaten Solok, Provinsi Sumatera Barat didampingi anggota Dewan Perwakilan Daerah (DPD) Parlindungan Purba dan Nofi Chandra menyambangi Menteri Pertanian RI Andi Amran Sulaiman, Senin (29/5) untuk menyampaikan keluhan petani terkait minimnya serapan bawang merah oleh Perum Badan Urusan Logistik (Bulog) sehingga harga di tingkat petani hanya Rp11.000 per kg.

Mentan Amran Sulaiman menyambut kunjungan tersebut untuk menyampaikan kabar baik sekaligus 'kabar buruk' tentang melimpahnya produksi bawang merah di Kabupaten Solok, namun harga jual per kilogram merugikan petani, dan pemerintah berjanji untuk membantu meringankan beban petani bawang merah.

"Kami sudah minta kepada Bulog untuk membeli seharga Rp15 ribu per kilogram, hal itu sesuai komitmen pemerintah untuk membantu petani karena saat ini Indonesia tidak lagi mengimpor bawang merah," kata Mentan di ruang kerjanya yang didampingi Dirjen Prasarana dan Sarana Pertanian (PSP) Pending Dadih Permana dan Tenaga Ahli Mentan Baran Wirawan.

Parlindungan Purba dan Nofi Chandra menyampaikan apresiasi kepada Mentan Amran Sulaiman atas perhatian pemerintah pada petani bawang merah di Solok sehingga produksinya terus meningkat.

"Hasil pertemuan ini akan kami koordinasikan dengan Bulog di Solok untuk menindaklanjuti instruksi Mentan," kata Parlindungan Purba.

Sementara Edward Jamil yang mewakili petani bawang merah Solok, mengaku datang langsung kepada Mentan, karena sedang panen raya bawang merah sehingga Bulog dapat menyerap produksi petani di harga Rp15.000 per kg, seperti dilansir Humas Kementan.
Jakarta (B2B) - Shallots farmers from Solok district of West Sumatra province accompanied by senators from the Regional Representative Council (DPD) Parlindungan Purba and Nofi Chandra met with the Indonesian Agriculture Minister Andi Amran Sulaiman on Monday (May 29) to convey the farmers' complaints about the lack of purchases by National Logistics Agency (Bulog) so that the price at farm level only 11,000 rupiah per kg.

Minister Sulaiman welcomed their visit on good news and 'bad news' about the abundance of shallot production in Solok district, but the selling price is not profitable for farmers and Jakarta promises to ease the burden on farmers.

"We have asked the Bulog to buy 15 thousand rupiah per kilogram, according to the government's commitment to help farmers because Indonesia does not import shallots," Minister Sulaiman said in his office accompanied by Director General of Infrastructures and Agricultural Facility (PSP) Pending Dadih Purnomo and and special staff Baran Wirawan.

Mr Purba and Mr Chandra expressed their appreciation to Minister Sulaiman for his attention to shallots farmers in Solok to encourage increased agricultural production.

"The outcome of meeting will be coordinated with the Bulog office in Solok, as instructed by agriculture minister," Mr Purba said.

While Edward Jamil who represents farmers, admitted to meet the minister because shallots harvest in Solok so that Bulog can buy farmers' production at the price of 15,000 rupiah per kg.