Mentan Teken Kerjasama dengan Taiwan, Adopsi Teknologi Pertanian Modern
Indonesia and Taiwan Signed the Cooperation of Agriculture Development
Reporter : Gusmiati Waris
Editor : Cahyani Harzi
Translator : Dhelia Gani

PUBLISHED: Minggu, 09 April 2017 , 03:31:22 WIB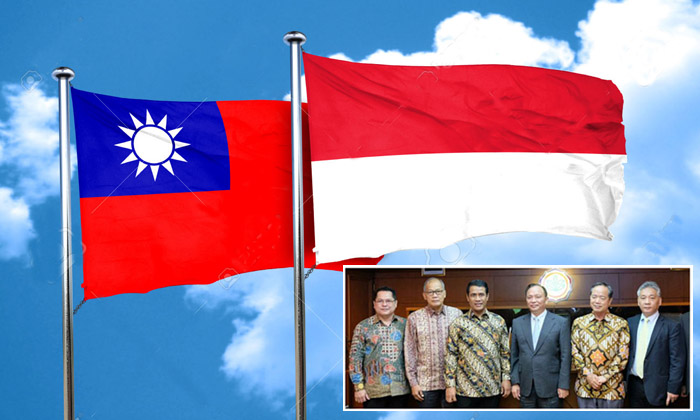 Bendera RI - Taiwan dan foto inset Mentan Andi Amran Sulaiman (ke-3 kiri) didampingi Sekjen Kementan Hari Priyono (ke-2 kiri) dan Mentan Taiwan Lin Tsung Hsien (ke-3 kanan) usai teken kerjasama (Foto2: istimewa)
Jakarta (B2B) - Pemerintah Taiwan akan mendukung Indonesia membangun embung untuk mengairi empat juta hektar lahan pertanian tadah hujan di seluruh Indonesia, diawali dengan proyek percontohan (pilot project) dan Taiwan akan menempatkan 12 tenaga ahlinya mendukung Kementerian Pertanian RI dalam pengembangan irigasi pertanian untuk mengatasi kesulitan para petani mendapat pasokan air yang cukup untuk lahan pertanian mereka.

Pengembangan embung merupakan salah satu dari paket kerjasama bidang pertanian Indonesia dan Taiwan, yang ditandatangani oleh Menteri Pertanian RI Andi Amran Sulaiman dan Menteri Pertanian Taiwan Lin Tsung Hsien di Jakarta pada Jumat (7/4), paket kerjasama lainnya adalah industri gula dan hortikultura, yang merupakan tindak lanjut dari pertemuan Mentan Amran Sulaiman dengan Menteri Pertanian Taiwan sebelumnya, Tsao Chi Hung pada awal November 2016.

"Taiwan berhasil melakukan transformasi sistem pertanian tradisional ke modern. Indonesia berharap dapat mengadopsi sistem pertanian berikut teknologinya. Action plan untuk program kerjasama pengembangan embung akan dibahas bulan depan," kata Mentan Amran Sulaiman usai pertemuan dengan koleganya dari Taiwan tersebut.

Menurutnya, kerjasama dalam pembangunan infrastruktur irigasi dirancang sejak awal 2017, tim teknis Taiwan pada 4 - 13 Januari telah berkunjung ke Indonesia untuk identifikasi model irigasi yang cocok untuk karakteristik agroekologi Indonesia. Dua bulan kemudian, tim dari Indonesia berkunjung ke Taiwan untuk mengetahui lebih jauh teknologi irigasi Taiwan yang layak diadopsi di Indonesia.

Industri Gula
Kerjasama bidang pertanian Indonesia dan Taiwan juga mencakup industri gula setelah negara tersebut menunjukkan minatnya untuk investasi dalam skala besar, dan delegasi dari Taiwan menunjukkan ketertarikan pada Desember 2016 dengan melakukan kunjungan dan diskusi intensif dengan pihak-pihak terkait di Indonesia, kemudian melakukan observasi ke lahan-lahan yang potensial untuk investasi industri gula.

"Pimpinan delegasi Taiwan saat itu menunjukkan minatnya untuk investasi di Indonesia, dan akan dilakukan secepatnya ketika pemerintah Taiwan memberikan persetujuan secara resmi," kata Amran Sulaiman.

Pemerintah Taiwan juga memperkenalkan model-model teknologi untuk pengembangan subsektor hortikultura di Indonesia. Kementerian Pertanian Taiwan melalui International Cooperation and Development Fund (ICDF) dan Taiwan Technical Mission (TTM) memperkenalkan beberapa model untuk pengembangan hortikultura di Indonesia.

"Saya sangat menghargai bantuan TTM dalam pengembangan budidaya asparagus di Bali, jambu di Bogor, modern green house, dan packing house untuk hortikultura di Lembang. Semoga bantuan ini dapat terus dilanjutkan untuk pengembangan hortikultura Indonesia selanjutnya," kata Mentan.

Bidang lain yang menjadi perhatian Indonesia dan Taiwan untuk dikembangkan bersama adalah budidaya pertanian organik. Taiwan akan memberikan pengalamannya dalam budidaya pertanian organik, khususnya pengembangan pertanian organik di wilayah perbatasan yang saat ini menjadi fokus perhatian Kementerian Pertanian RI.
Jakarta (B2B) - The Taiwan government will support Indonesia developing the retention basin for irrigation of four million hectares of rain-fed land across the country, starting with a pilot project by 12 experts from Taiwan for support Indonesian Agriculture Ministry Indonesia developing irrigated agriculture overcome difficulties of farmers get water supply for their farm land.

The retention basin is one package of Indonesia and Taiwan agricultural cooperation, which was signed by Agriculture Minister Andi Amran Sulaiman and Taiwan Agriculture Minister Lin Tsung Hsien here on Friday (April 7) other cooperation package is sugar industry and horticulture, follow-up meeting on early November 2016, after Minister Sulaiman met with Tsao Chi Hung, Taiwan agriculture minister who was replaced by Lin Tsung Hsien.

"Taiwan's success transformation of traditional to modern farming systems. Indonesia wants to adopt farming systems and technology. Action plan of cooperation programs will be discussed next month," said Minister Sulaiman after meeting with his colleague from Taiwan.

According to him, the development of irrigation infrastructure planned for early 2017, the technical team of Taiwan on January 4 to 13 have visited Indonesia for identification of irrigation system in accordance with the Indonesian agroecology. Two months later, the team from Indonesia visited Taiwan to learn more about Taiwan irrigation.

Sugar Industry
Agricultural cooperation Indonesia and Taiwan also includes sugar industry after the state was showed interest in investing in large scale, and delegates from Taiwan in December 2016 visit to Indonesia and intensive discussions with the relevant parties in Indonesia, then made some observations on agricultural land for development sugar industry.

"Representatives from Taiwan expressed investment interest in Indonesia, and will decide as soon as possible after the Taiwan government gives official approval," Mr Sulaiman said.

The Taiwan government has also introduced models for the technology development of horticulture. Taiwan's Ministry of Agriculture through the International Cooperation and Development Fund (ICDF) and the Taiwan Technical Mission (TTM) introduced several models for development of horticulture in Indonesia.

"I really appreciated the support of TTM for cultivation of asparagus in Bali, guava in Bogor, modern green house, and packing house for horticulture in Lembang. Hopefully it continues to support horticulture development in Indonesia," he said.

Another field of concern both countries is cultivating organic farming. Taiwan will elaborate the cultivation of organic farming, especially organic farming development in the border region that is currently the focus of Indonesian Agriculture Ministry.