Karantina Pertanian Pantau Profil Importir 47 Produk Berkode `Harmonize System`
Importers of 47 Harmonized System Products are Closely Monitored by Indonesia`s IAQA
Reporter : Gusmiati Waris
Editor : Cahyani Harzi
Translator : Dhelia Gani

PUBLISHED: Jum'at, 09 Juni 2017 , 03:36:43 WIB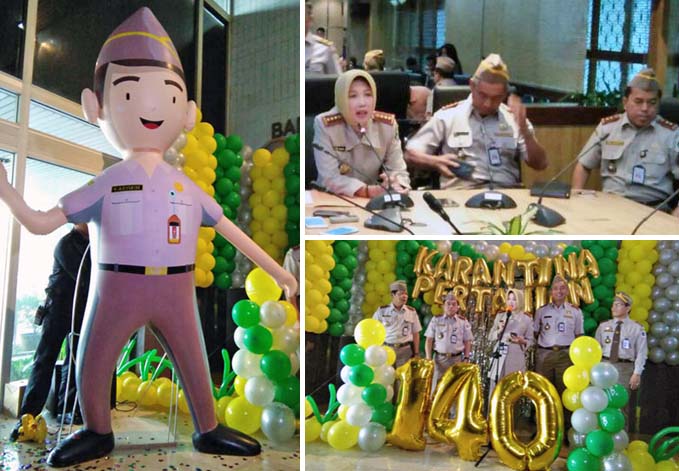 Maskot Barantan 140 tahun melayani negeri, Kepala Barantan Banun Harpini (kiri) menjawab pers (kanan atas) dengan pejabat eselon dua Barantan termasuk Kepala Karantina Tumbuhan Antarjo Dikin (Foto2: B2B/Gusmiati W)
Jakarta (B2B) - Badan Karantina Pertanian (Barantan) Kementerian Pertanian RI tetap memeriksa kondisi fisik dan profil importir mebel dan kulit jadi untuk memastikan kebenaran dokumen impor, meskipun kedua produk termasuk 47 daftar produk impor berkode harmonize system (HS) yang dihapus dari portal Indonesia National Single Window (INSW) karena berisiko rendah seperti pada SK Kepala Barantan No 870/2017.

Kepala Barantan, Banun Harpini mengatakan untuk menyikapi hal itu, pihaknya meminta sejumlah unit pelaksana teknis (UPT) seperti balai besar karantina pertanian Soekarno - Hatta di Jakarta dan Belawan di Medan, termasuk layanan di Kupang (NTT), Cilegon (Banten), Pekanbaru (Riau), dan Semarang (Jateng) masih mendapati pelaksanaan tindakan karantina yang belum memenuhi standar seperti mebel dan kulit jadi impor yang sempat dikeluhkan industri.

"Mebel dan kulit jadi termasuk media pembawa yang tidak lagi melalui tindakan karantina. Meski demikian, pemeriksaan fisik tetap dilakukan untuk memastikan kebenaran dokumen impor," kata Banun Harpini pada konferensi jarak jauh (teleconference) di kantornya, Jakarta, Kamis (8/6) dengan sejumlah UPT ibukota provinsi.

Dia mengakui hal itu mendorong terjadinya penyalahgunaan dokumen impor, meskipun importir menyatakan kulit jadi tapi setelah dilakukan pemeriksaan fisik ternyata ditemukan kulit mentah.

Menurut Banun, sejumlah produk yang termasuk daftar larangan tindakan karantina antara lain kopi proses, arang kayu, papan partikel, kayu lapis. Penentuan sejumlah produk impor termasuk daftar larangan ini dilakukan Barantan setelah melalui analisis risiko.

"Ini seharusnya diperbaiki dan tersosialisasi dengan mitra kerja karantina," katanya yang didampingi para pejabat eselon dua Barantan.

Dia meminta kepada masing-masing UPT karantina pertanian agar melaksanakan tindakan karantina sesuai dengan standar operasional prosedur (SOP) yang telah disusun.

Idul Fitri
Dia menambahkan pihaknya juga berkoordinasi dengan Ditjen Bea dan Cukai dan lembaga lain yang terkait dengan 47 produk termasuk kode HS yang berisiko rendah tetap perlu diperiksa profil dari importir.

"Evaluasi tidak hanya dilakukan pada produk saja, tetapi juga hingga profil importirnya dalam kerangka acuan INSW," kata Banun Harpini.

Khusus menjelang Idul Fitri tahun ini, dia meminta agar sejumlah UPT karantina pertanian memastikan kelancaran arus bahan pangan antararea, dengan menerapkan prinsip kehati-hatian, dengan pembagian personel karantina mendukung kinerja Satgas Pangan untuk mencegah upaya penyelundupan produk pangan impor.

"Bawang merah dan daging kerbau dari India yang paling menonjol dan harus diwaspadai, karena ditengarai banyak upaya penyelundupan," kata Banun.
Jakarta (B2B) - Indonesian Agricultural Quarantine Agency (IAQA/Barantan) keep examines the physical condition of furniture and finished leather import products cross check with import documents followed by inspection of importer profile although both products include 47 Harmonized System (HS) imported product lists have been removed from Indonesia National Single Window portal, as it is considered low risk according to IAQA Director General Decree No. 870/2017, according to the senior official of IAQA.

Director General of Agriculture Ministry's IAQA Banun Harpini said to anticipate it, she asked the technical implementation units in Soekarno-Hatta Int'l Airport, Medan's Belawan Port, including service offices in East Nusa Tenggara's Kupang, Banten's Cilegon, Riau's Pekanbaru and Central Java's Semarang has not carried out standardized quarantine measures to 47 harmonized system imported product.

"Furniture and finished leather include carrier media that are no longer through quarantine measures, but physical checks are still underway to ensure the correctness of import documents," Mrs Harpini said here in her office on Thursday (June 8).

She acknowledged that it encouraged the misuse of import documents, even though importers declared finished leather products but after a physical examination it was found raw leather.

According to Mrs Harpini, 47 imported includes of 47 Harmonized System include processed coffee, charcoal, particle board, plywood determined by IAQA after risk analysis.

"It should be improved and socialized with quarantine partners," she said.

The Eid
She added that it also coordinates with the Directorate General of Customs and other institutions related to 47 imported products by monitoring and checking the profile of importers.

"Evaluation not only on imported products, and importer profiles within INSW's terms of reference," Mrs Harpini said.

Ahead of the Eid, she asked the agricultural quarantine service offices closely monitor distribution of foodstuffs between regions with precautionary principle, and support the food task unit (Satgas Pangan) prevent smuggling of imported food.

"Onion and buffalo meat from India because many parties are trying smuggle into Indonesia," Mrs Harpini said.