Mentan: Opini WTP BPK Capaian Sejarah Kementan setelah 10 Tahun Penantian
The Audit Board of the Republic of Indonesia Gave Unqualified Opinion for Agriculture Ministry
Reporter : Gusmiati Waris
Editor : Cahyani Harzi
Translator : Dhelia Gani

PUBLISHED: Selasa, 06 Juni 2017 , 04:03:04 WIB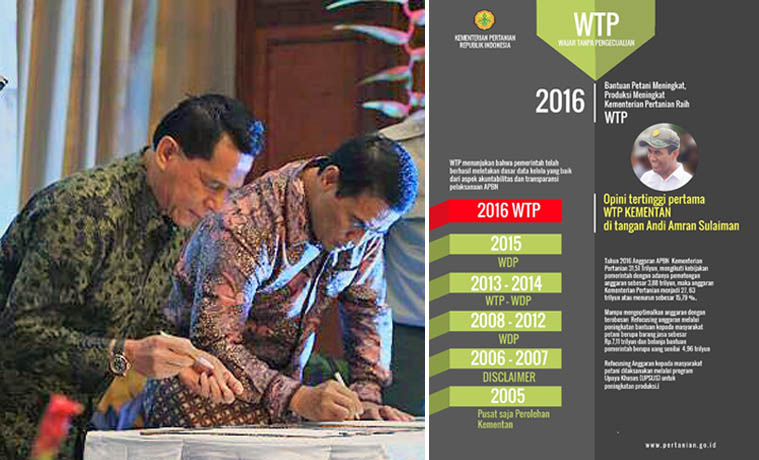 Anggota BPK Rizal Djalil (kiri) dan Mentan Andi Amran Sulaiman meneken LHP dan Opini WTP dari BPK dan info grafis capaian WTP Kementan (Foto & Grafis: Humas Kementan)
Jakarta (B2B) - Opini Wajar Tanpa Pengecualian (WTP) dari Badan Pemeriksa Keuangan (BPK) akhirnya kembali diraih oleh Kementerian Pertanian RI, sebagai yang pertama kali diperoleh setelah 10 tahun terakhir atau sejak 2006 mendapat opini Wajar Dengan Pengecualian (WDP), dan Menteri Pertanian Andi Amran Sulaiman menyampaikan apresiasi atas kerja keras seluruh jajaran di kementerian yang dipimpinnya sejak di penghujung 2014.

"Bukan begitu saja tiba-tiba muncul opini WTP ini, dan kami berjanji kalau ada yang main-main di Kementan, artinya dia sudah siap tinggalkan Kementan. Capaian ini hasil kerja keras kita semua," kata Mentan Amran Sulaiman kepada pers di Jakarta pada Senin (5/6).

Anggota IV BPK, Rizal Djalil menyerahkan laporan hasil pemeriksaan (LHP) dan Pemberian Opini WTP atas laporan keuangan Kementan kepada Mentan Amran Sulaiman seraya mengatakan, "bahwa capaian WTP bagi Kementan dicapai dengan kerja keras dan berdarah-darah."

Menurut Mentan, pencapaian tersebut menjadi salah satu prestasi penting yang dinantikan Kementan sejak 10 tahun terakhir, dan capaian WTP menjadi yang pertama setelah selama ini mendapat opini WDP.

Refocusing Anggaran
Sebagaimana diketahui, alokasi APBN Kementan pada 2016 mencapai Rp31,51 triliun, namun karena pemotongan anggaran Rp3,88 triliun melalui APBN - Perubahan (APBN-P) berkurang menjadi Rp27,63 triliun, atau menurun 15,79% dibandingkan dengan anggaran 2015 yang mencapai Rp32,81 triliun.

Kepala Biro Humas dan Informasi Publik Kementan, Agung Hendriadi mengatakan penurunan anggaran tersebut disikapi oleh Mentan Amran Sulaiman dengan membuat terobosan melalui refocusing anggaran pada 2015 sebesar Rp4,1 triliun dan Rp4,3 triliun pada 2016.

Caranya? "Dengan memangkas biaya perjalanan dinas, anggaran rapat, biaya seminar, upacara peresmian dan belanja tidak efisien lainnya, kemudian digunakan untuk belanja barang untuk memberi bantuan kepada petani berupa alat mesin pertanian (Alsintan), perbaikan infrastruktur, bantuan perbanyakan benih, dan bantuan lainnya sehingga bantuan kepada petani terus meningkat meskipun anggaran menurun," kata Agung.

Tercatat dalam Laporan Keuangan Kementan bahwa total belanja bantuan pemerintah mencapai Rp12,08 triliun, yakni belanja barang bantuan pemerintah sebesar Rp7,11 triliun dan belanja bantuan pemerintah berupa uang senilai Rp4,96 triliun.

Agung memberi contoh, bantuan Alsintan yang umumnya setiap tahun hanya 5.000 hingga 6.000 unit, melalui refocusing anggaran meningkat signifikan hingga lebih dari 80.000 unit per tahun, maka hingga 2016 total bantuan Alsintan mencapai 288.642 unit.
Jakarta (B2B) - The Audit Board of the Republic of Indonesia (BPK) gave Unqualified Opinion (WTP) for the Indonesian Agriculture Ministry, as the first time after the last 10 years or since 2006 have got Opinion With Exception (WDP), and Minister Andi Amran Sulaiman appreciated the hard work civil servants in the ministry.

"The WTP opinion of BPK is not a gift from heaven, and I promise anyone who tries to corrupt, meaning he is ready to leave the ministry. This achievement is the result of our hard work," Minister Sulaiman told reporters here on Monday (June 5).

The BPK Member, Rizal Djalil handed the Audit Report of BPK to Minister Sulaiman while said, "the Unqualified Opinion for the agriculture ministry is achieved with hard work and hard struggle."

Mr Sulaiman said accomplishments of WTP becomes important achievements awaited by the ministry since last 10 years.

Refocusing Budgets
As is known, the allocation of state budget revenue and expenditure (APBN) for Agriculture Ministry in 2016 reached 31.51 trillion rupiah, but because the budget cuts of 3.88 trillion rupiah through Revised State Budget (APBN-P) reduced to 27.63 trillion rupiah, or decreased 15.79% compared to 2015 budget that reached 32.81 trillion rupiah ($1 = 13,321.00 rupiah).

Agriculture Ministry spokesman Agung Hendriadi said the budget decrease was responded by Minister Sulaiman by refocusing the budget in 2015 by 4.1 trillion rupiah and 4.3 trillion rupiah in 2016.

How? "Cutting the cost of business travel, meeting budget, the cost of the seminar, inauguration ceremonies and other inefficient spending, then used for agricultural machinery expenditure submitted to the farmers as central government grants, infrastructure improvements and free seeds so that government grants for farmers increases despite state budget decreases," Mr Hendriadi said.

Recorded in the financial statement that total government assistance spending reached 12.08 trillion rupiah, spending on goods amounted to 7.11 trillion rupiah and cash assistance reached 4.96 trillion rupiah.

Mr Hendriadi give an example, agricultural machinery that is usually only 5,000 to 6,000 units per year, but because the refocusing budget increased significantly more than 80,000 units per year or total 288,642 units in 2016.