Rakor Mendag - Mentan Pastikan Stok Bahan Pokok Ramadan dan Lebaran Memadai
Indonesiam Govt Ensures Food Stock of Ramadan and Eid is Adequate
Reporter : Gusmiati Waris
Editor : Cahyani Harzi
Translator : Dhelia Gani

PUBLISHED: Kamis, 01 Juni 2017 , 04:45:45 WIB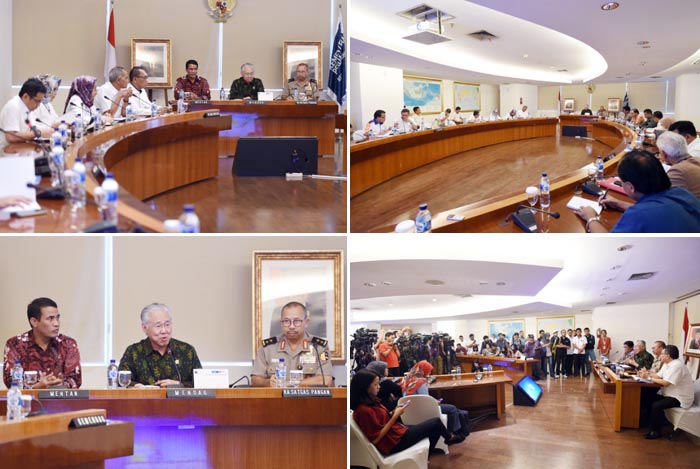 Rakor dihadiri Mentan Andi Amran Sulaiman, Mendag Enggartiasto Lukita, Kepala Satgas Pangan Irjen Pol Setyo Wasisto dan para pejabat eselon satu dari kedua kementerian (Foto2: istimewa)
Jakarta (B2B) - Pemerintah RI memastikan stok barang kebutuhan pokok khususnya beras, gula, tepung terigu, bawang merah dan minyak goreng memadai untuk memenuhi kebutuhan Ramadan dan Lebaran 2017, dan pemerintah akan melakukan intervensi apabila harga salah satu bahan pokok seperti bawang merah menurun tajam sehingga merugikan petani.

Hal itu dikemukakan Menteri Perdagangan Enggartiasto Lukita usai melakukan rapat koordinasi pengendalian ketersediaan barang kebutuhan pokok untuk Ramadan dan Lebaran 2017, yang dihadiri oleh Menteri Pertanian Andi Amran Sulaiman dan Kepala Satgas Pangan Irjen Pol Setyo Wasisto di Jakarta pada Rabu (31/5).

Mendag meyakini laju inflasi pada Mei 2017 dapat ditekan melalui upaya Kemendag, Kementan, dan Badan Urusan Logistik (Bulog) dalam menjaga kestabilan harga bahan pokok.

"Saya belum katakan berhasil 100 persen, tapi hari ini dengan deflasi tiga bulan dan bulan terakhir kita tunggu, saya yakin inflasi tidak besar karena ada perhitungan BP3 yang tidak jauh dengan BPS," kata Enggar kepada pers.

Dia menambahkan sejauh ini beberapa komoditas pangan, seperti bawang putih, bawang merah, daging beku, dan gula pasir terkendali baik dari segi ketersediaan maupun harga di pasaran.

Selain bawang merah, Kemendag juga mengantisipasi komoditas pangan lainnya seperti telur ayam yang anjlok di kisaran harga petani hanya Rp16.400, padahal harga acuan yang ditetapkan pemerintah Rp18.000 per kg.

"Telur harga acuan Rp18 ribu, di Blitar sekarang Rp16.400 padahal kemarin Rp17.500. Kami minta kepada para pedagang besar untuk ambil itu dengan harga Rp18 ribu," kata Enggar.

Untuk komoditas gula pasir, Mendag mengimbau masyarakat untuk membeli di pasar ritel modern yang sudah sepakat untuk menjual maksimum Rp12.500 per kg.
Jakarta (B2B) - Indonesian government make sure stock of basic necessities especially rice, sugar, flour, onions and cooking oil sufficient to meet the needs of Ramadan and Eid, and the government will intervene in price if there is a price of staple such as shallot down to the detriment of farmers.

It was stated by Trade Minister Enggartiasto Lukita after coordination meeting with Agriculture Minister Andi Amran Sulaiman and and Head of the Task Force on Food Inspector General of Police Setyo Wasisto here on Wednesday (May 31).

Minister Lukita believes the inflation rate in May 2017 can be suppressed through the ministry's efforts supported by National Logistics Agency (Bulog) maintains staple food prices.

"I have not said it works 100 percent, but today it is with a three-month deflation and last month we wait, I believe inflation is not high because there is an accurate calculation of Indonesian Statistics Agency," he told reporters.

He added so far several food commodities such as garlic, shallots, frozen meat and sugar was controlled related to availability and price in the market.

The government also anticipates the price of other food commodities such as the price of chicken eggs at the farm level of 16,400 rupiah while the government sets the lowest price of 18,000 rupiah per kg.

"Egg prices on benchmark 18 thousand rupiah, in Blitar now 16,400 rupiah but yesterday 17,500 rupiah. We ask the wholesalers to buy 18 thousand rupiah per kg," Mr Lukita said.

For sugar, he urges consumers to buy in the modern retail market that has agreed to sell maximum of 12,500 rupiah per kg.