Kementan Bangun Pertanian Sesuai Keunggulan Daerah, Sinergi Lintas Kementerian
Joko Widodo Administration Developing Indonesia`s Agriculture according to Regional Potential
Reporter : Gusmiati Waris
Editor : Cahyani Harzi
Translator : Dhelia Gani

PUBLISHED: Jum'at, 02 Juni 2017 , 06:24:37 WIB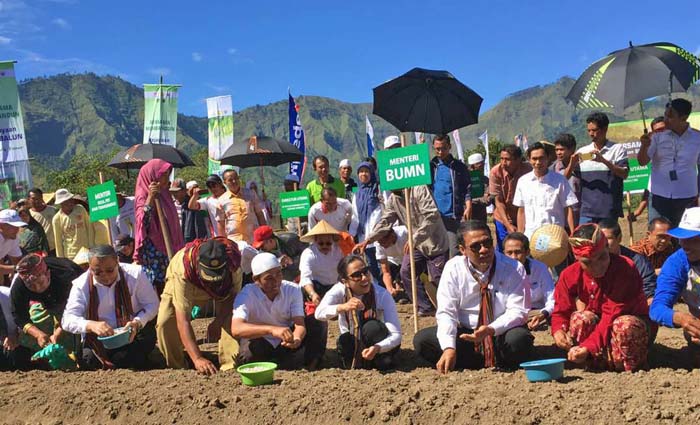 Mentan Amran Sulaiman (ke-2 kanan), Mendes Eko PS (kiri) dan Menteri BUMN Rini Soemarno (ke-3 kanan) menanam bawang putih secara simbolis di Sembalun, Lombok Timur, NTB (Foto: Humas Kementan)
Jakarta (B2B) - Presiden RI Joko Widodo kerapkali mengingatkan para menterinya untuk menghilangkan cara berpikir ego sektoral sehingga dapat bekerja optimal, dan hal itu diterapkan oleh Menteri Pertanian Andi Amran Sulaiman untuk mengembangkan potensi pertanian sesuai keunggulan daerah seperti jagung bawang putih, dan cabai di Kabupaten Lombok Timur, Provinsi Nusa Tenggara Barat (NTB) didukung Kementerian BUMN dan Kementerian Desa, Pembangunan Daerah Tertinggal.

"Kita membangun pertanian sesuai dengan keunggulan suatu daerah. Potensi jagung, bawang putih dan cabai sangat baik di Lombok Timur, maka Kementan akan bersinergi dengan kementerian lain khususnya Kementerian BUMN dan Kemendes PDT," kata Mentan Amran Sulaiman usai menanam bawang putih secara simbolis bersama Menteri BUMN Rini Soemarno dan Mendes PDT Eko Putro Sandjojo di Dusun Lebak Daya, Kecamatan Sembalun Lawang, Lombok Timur, NTB, belum lama ini.

Menurutnya, sinergi lintas kementerian dengan melibatkan Kemendes PDT yang memberi bantuan embung, dan Kementerian BUMN membuka akses perbankan melalui kredit usaha rakyat (KUR) sementara Kementan memberikan bantuan benih gratis.

"Kabupaten Lombok Timur sangat spesial dan luar biasa potensi pertaniannya, sehingga kami perlu bersinergi untuk peningkatan produksi pangan strategis," kata Mentan.

Amran Sulaiman menegaskan bahwa Lombok Timur sebagai salah satu sentra bawang putih terbesar di Indonesia memiliki kontribusi 52% terhadap luas panen nasional dan berpotensi untuk pengembangan bawang putih 10.000 hektar.

Kementan memperkirakan kebutuhan nasional bawang putih saat ini mencapai 500.000 ton per tahun, dan produksi nasional hanya mampu memasok 20.000 ton atau 4%, maka luas lahan yang diperlukan untuk mencapai swasembada bawang putih minimal 60.000 hektar.

"Saya optimistis bisa tercapai, seperti saat ini jagung tidak lagi impor begitu pula beras sehingga gajahnya sudah kita taklukkan, tinggal ayamnya saja," kata Mentan.
Jakarta (B2B) - Indonesian President Joko Widodo often reminds his ministers to eliminate sectoral ego so that it can work optimally, and it is applied by the Agriculture Minister Andi Amran Sulaiman developing agricultural potentials according the excellence of each region such as corn, garlic, and chili in East Lombok district of West Nusa Tenggara province supported by the SOEs Ministry with Village and Development of Disadvantaged Regions Ministry.

"We build agriculture according to the potential of each region. The potential of maize, garlic and chili is very good in East Lombok, so we will synergize with other ministries especially SOEs ministry and village ministry," Minister Sulaiman said after after planting garlic symbolically with SOE Minister Rini Soemarno and Minister Eko Putro Sandjojo in Lebak Daya hamlet of Sembalun Lawang subdistrict of East Lombok district recently,

According to him, the inter-ministerial synergy involves village ministries that provide retention basin for irrigation and SOE ministry open access to banking through people's business credit (KUR) while agriculture ministry provides free seeds.

"East Lombok district is very special and extraordinary agricultural potential, so we need to work together to increase strategic food production," Minister Sulaiman said.

Minister Sulaiman insists that East Lombok as one of the largest centers of garlic in Indonesia have contributed 52% of the national harvest area, and the potential development of 10,000 hectares of garlic.

He estimates that the current national garlic requirement reaches 500,000 tons per year, and the national production is only able to supply 20,000 tons or 4%, so it takes at least 60,000 hectares to support the achievement of self-sufficiency in garlic.

"I am optimistic that nowadays corn is no longer imported as well as rice," Minister Sulaiman said.