Investasi Embung Rp22,6 T di Sawah Tadah Hujan, Petani Raih Manfaat Rp40 T
Indonesia Invests 22.6 Trillion IDR for Irrigation in Rain-fed Rice Fields
Reporter : Gusmiati Waris
Editor : Cahyani Harzi
Translator : Dhelia Gani

PUBLISHED: Selasa, 20 Juni 2017 , 06:29:47 WIB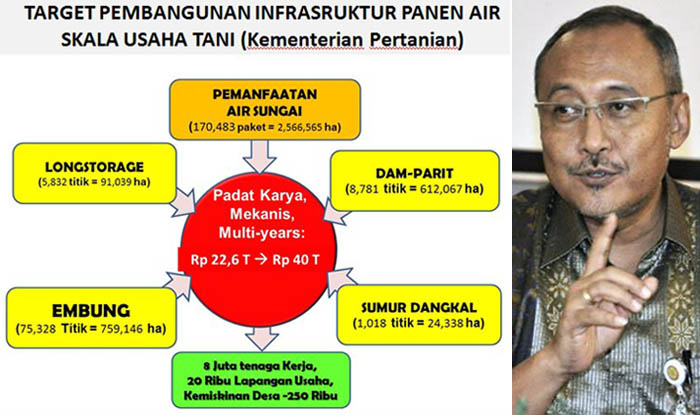 Direktur Jenderal Prasarana dan Sarana Pertanian (PSP) Kementan, Pending Dadih Permana (kanan) dan tabel pengembangan bangunan air mendukung swasembada padan (Foto: B2B/Gusmiati W & Tabel: Ditjen PSP Kementan)
Jakarta (B2B) - Pemerintah RI berupaya mengoptimalkan lahan persawahan dan tadah hujan seluas 4 juta hektar di seluruh Indonesia, investasi Rp22,6 triliun untuk membangun embung, sumur dangkal dan pemanfaatan air sungai yang dibangun melalui pola padat karya, mekanis dan multi-years, sehingga mampu meningkatkan indeks pertanaman (IP) dari satu kali menjadi tiga kali tanam dengan target produksi 10 juta gabah kering giling (GKG) setara Rp40 triliun.

Direktur Jenderal Prasarana dan Sarana Pertanian (PSP) Kementan, Pending Dadih Permana mengatakan pembangunan embung dan bangunan air lainnya bertujuan meningkatkan produksi pertanian dengan mengoptimalkan IP menjadi tiga kali lipat khususnya di lahan sawah tadah hujan seluas 4 juta.

"Setelah embung dibangun akan dilanjutkan dengan pembangunan dam parit, sehingga dapat dimanfaatkan oleh petani dan masyarakat desa untuk pengembangan sektor lainnya seperti budidaya ikan, perkebunan melalui budidaya sayuran, kolam pemancingan dan pengembangan ternak," kata Pending kepada pers di Jakarta pada Senin (19/6).

Pending mengelaborasi sebaran dari potensi lahan sawah tadah hujan di setiap pulau yakni Sumatera seluas 1.206.476 hektar, Jawa 724.334 hektar, Bali dan Nusa Tenggara 117.876 hektar, Kalimantan 1.342.702 hektar, Sulawesi 608.872 hektar, Maluku 24.216 hektar, Papua 28.681 hektar.

Dari sebaran tersebut, target infrastruktur panen air skala usaha tani pemanfaatan air sungai mencapai170.483 paket mencakup 2.566.565 hektar, 5.832 titik long storage mencakup 91.039 hektar, 8.781 titik dam-parit mencakup 612.067 hektar, 75.328 titik embung mencakup 759.146 hektar, dan 1.018 titik sumur dangkal mencakup 24.338 hektar.

"Pola pembangunan padat karya melibatkan delapan juta tenaga kerja, mekanis dan multi-years berpeluang membuka 20 ribu lapangan usaha dari investasi Rp22,6 triliun dengan manfaat Rp40 triliun," kata Pending yang didampingi para pejabat eselon dua Ditjen PSP.

Lintas Sektoral
Pelaksanaan kegiatan pengembangan embung dan bangunan air lainnya untuk Tahun Anggaran 2017 dilaksanakan secara lintas sektoral melibatkan Kementan; Kementerian Desa, Pembangunan Daerah Tertinggal dan Transmigrasi (Kemendes PDT) dan Kementerian Pekerjaan Umum dan Perumahan Rakyat (PUPR).

Kementan menjadi pelaksana pembangunan embung kecil sebanyak 5.480 unit dengan alokasi dana Rp797 miliar dengan luas cakupan 137.075 hektar. Kemendes PDT yang membangun 10.100 unit embung kecil mencakup 748.801 hektar dan 50 embung sedang, total investasi Rp22 triliun dari dana desa dan APBN Pusat. Kemen PUPR membangun 53 embung besar mencakup 3,331 hektar alokasi dana Rp424 miliar dari APBN Pusat.

Pending menambahkan Dam Parit merupakan bangunan konservasi air berupa bendungan kecil pada parit-parit alamiah atau sungai-sungai kecil yang dapat menahan air dan meningkatkan tinggi muka air untuk disalurkan sebagai irigasi. Embung merupakan bangunan konservasi air berbentuk kolam/cekungan untuk menampung air limpasan (run off) dan sumber air lain untuk mendukung usaha pertanian.

"Sementara Long Storage, bangunan penahan air yang berfungsi menyimpan air di dalam sungai, saluran pembuang (drainase) dan atau parit pada lahan relatif datar," kata Pending, mantan Kepala Kepala Badan Penyuluhan dan Pengembangan Sumber Daya Manusia Pertanian (BPPSDMP) Kementan.

Badan Pusat Statistik (BPS) pada 2014 melansir bahwa luas baku lahan pertanian mencapai 62,5 juta hektar terdiri atas sawah irigasi 4,1 juta hektar dengan dua kali tanam, 4 juta hektar sawah non-irigasi dengan satu kali tanam, 5,02 juta hektar huma/ladang hanya satu kali tanam memerlukan embung, 11,68 juta hektar lahan tidur yang belum ditanami dan memerlukan embung sesuai regulasi Peraturan Pemerintah (PP) No 11/2010 Pasal 9 - 13, 2,19 juta hektar ladang penggembalaan ternak, 23,48 juta hektar perkebunan, dan 12,01 juta hektar tegal/kebun sebagai integrasi pangan dan kebun memerlukan embung.
Jakarta (B2B) - The Indonesian government allocates 22.6 trillion rupiah to optimize rain-fed rice fields by 4 million hectares by developing basin retention, shallow wells and river water utilization through a labor-intensive, mechanical and multi-years programs so as to increase the cultivation index of one time to three times planting for production target of 10 milled dry rice equivalent to 40 trillion rupiah ($1 = 13,321.00 rupiah), according to the agriculture ministry's senior official.

Director General of Agriculture Infrastructure and Facility (PSP) said water infrastructure development aims to increase agricultural production to achieve three planting targets in 4 million hectares of rain-fed rice fields.

"After development of basin retention, it will contiune development of trench dams will be beneficial for farmers and villagers for fish cultivation, vegetable cultivation in plantation areas, fishing ponds and livestock," Mr Permana told reporters here on Monday (June 19).

He elaborated potential of rain-fed rice fields in Indonesia such as 1,206,476 hectares in Sumatra, 724,334 hectares in Java, 117,876 hectares in Bali and Nusa Tenggara, 1,342,702 hectares in Borneo, 608,872 hectares in Sulawesi, 24,216 hectares in Moluccas, and 28,681 hectares in Papua.

Of this amount, the target water infrastructure for river water utilization reaches 170,483 packages covering 2,566,565 hectares, 5,832 long storage points covering 91,039 hectares, 8,781 trench dams covering 612,067 hectares, 75,328 basin retention points covering 759,146 hectares, and 1,018 shallow wells covering 24,338 hectares.

"Development with labor-intensive patterns employing around eight million workers, mechanization and multi-years that are likely to open 20,000 businesses of 22.6 trillion rupiah," said Mr Permana who accompanied by second echelon officials in his office.

Intersectoral
Development of agricultural water infrastructure for fiscal year 2017 is implemented by intersectoral by the agriculture ministry; ministry of village, development of underdeveloped area and transmigration, and the public works and public housing ministry.

The agriculture ministy responsible for development 5,480 small basin retention units with an allocation of 797 billion rupiahs for 137,075 hectares. The ministry of village, development of underdeveloped area and transmigration developing of 10,100 small basin retention units for 748,801 hectares and 50 medium embungs with budget of 22 trillion rupiah from village funds and the central state budget. And the public works and public housing ministry developing 53 large ponds covering 3,331 hectares with allocation of 424 billion rupiah from central state budget.

Mr Permana added that the trench dam is a small dam-shaped water conservation in natural ditches or small rivers that can retain water and increase water levels as irrigation. Basin retention is a water conservation building in the form of a pond or basin to accommodate rain water (run off) and other water sources.

"While long storage, water retaining structures for storing water in rivers, drainage or trenches on land are relatively flat," said Mr Permana who was former of Indonesia Agriculture Ministry´s Agency for Human Resource Development of Agricultural (BPPSDMP).

Indonesian Statistics Agency (BPS) reported total area of agricultural land across the archipelago reaches 62.5 million hectares consisting of 4.1 million hectares of irrigated rice fields with two times the planting period, reaches 4 million hectares of non-irrigated rice fields with one planting, 5.02 million hectares of fields with one planting period, reaches 11.68 million hectares of sleeping land that require basin retention according to Government Regulation No. 11/2010 Articles 9 - 13, reaches 2.19 million hectares of livestock grazing land, 23.48 million hectares of plantation, and 12.01 million hectares of land integration of food and plantations.