BPK: Opini WTP Hasil Kinerja Positif Capai Target Swasembada Pangan
The Unqualified Opinion for Indonesian Agriculture Ministry Hailed by the BPK
Reporter : Gusmiati Waris
Editor : Cahyani Harzi
Translator : Dhelia Gani

PUBLISHED: Selasa, 06 Juni 2017 , 06:03:53 WIB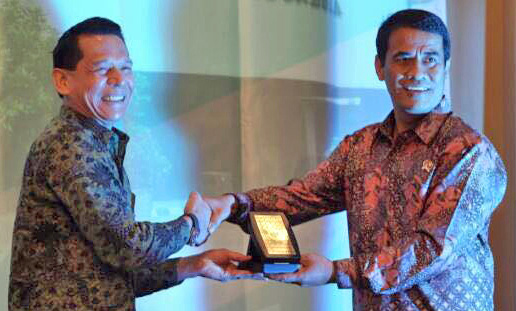 Anggota IV BPK Rizal Djalil (kiri) menyerahkan plakat Opini Wajar Tanpa Pengecualian (WTP) kepada Mentan Andi Amran Sulaiman (Foto: Humas Kementan)
Jakarta (B2B) - Badan Pemeriksa Keuangan RI (BPK) menegaskan bahwa pencapaian Opini Wajar Tanpa Pengecualian (WTP) kepada Kementerian Pertanian dari BPK dicapai dengan kerja keras dan 'berdarah-darah', hal itu ditegaskan Anggota IV BPK Rizal Djalil menyusul kasus suap untuk mendapatkan opini WTP di Kementerian Desa dan Pembangunan Daerah Tertinggal yang diungkap oleh Komisi Pemberantasan Korupsi (KPK).

Rizal Djalil mengatakan bahwa sejumlah upaya dilakukan Kementan untuk mencapai Opini WTP seperti menyempurnakan regulasi tentang teknis penatausahaan persediaan, petunjuk teknis akuntansi penerimaan negara bukan pajak (PNBP), jenis dan tarif jenis PNBP Kementan serta petunjuk teknis pengelolaan PNBP Kementan.

Langkah dan kebijakan tersebut didukung dengan peningkatan sumber daya manusia (SDM) di bidang keuangan, pengembangan aplikasi pendukung laporan keuangan, dan mempercepat penyelesaian atas pemeriksaan BPK tahun sebelumnya.

"Tidak ada upaya dan kegiatan yang melanggar etika. Ketemu saya saja susah kok. Jadi yakin dan percaya WTP ini tidak ada kaitannya dengan berita yang berkembang itu," kata Rizal Djalil kepada pers di Jakarta pada Senin (5/6) usai penyerahan laporan hasil pemeriksaan (LHP) dan Pemberian Opini WTP atas laporan keuangan Kementan kepada Mentan Amran Sulaiman.

Rizal mengingatkan bahwa publik tidak perlu meragukan komitmen Mentan Amran Sulaiman dan Kementan untuk melaksanakan tugas pencapaian swasembada pangan, dan perhatian Presiden RI Joko Widodo terhadap pertanian sangat besar karena pangan menjadi prioritas utama pembangunan nasional.

"Jangan ada keraguan soal itu. Kami bertanggung jawab. Saya siap berdebat dengan siapa pun. Apa yang kita sampaikan secara ilmiah dapat kami pertanggungjawabkan. Buktinya, Alhamdulillah produksi pangan strategis kita meningkat. Barangnya ada, hanya spekulan yang bermain," kata Rizal.

Mentan Amran Sulaiman menegaskan bahwa Opini WTP akhirnya kembali diraih oleh Kementerian Pertanian RI, sebagai yang pertama kali diperoleh setelah 10 tahun terakhir atau sejak 2006 mendapat opini Wajar Dengan Pengecualian (WDP), dan Menteri Pertanian Andi Amran Sulaiman menyampaikan apresiasi atas kerja keras seluruh jajaran di kementerian yang dipimpinnya sejak di penghujung 2014.

"Bukan begitu saja tiba-tiba muncul opini WTP ini, dan kami berjanji kalau ada yang main-main di Kementan, artinya dia sudah siap tinggalkan Kementan. Capaian ini hasil kerja keras kita semua," kata Mentan Amran Sulaiman kepada pers.
Jakarta (B2B) - The Audit Board of the Republic of Indonesia (BPK) confirmed the Unqualified Opinion (WTP) for Indonesian Agriculture Ministry was achieved with hard work and 'bloody, the BPK Member Rizal Djalil said it followed a bribery case to get the WTP Opinion in Rural and Development of Disadvantaged Regions Ministry was revealed by Indonesian Anti-graft Commission (KPK).

Mr Djalil said number efforts were made by the Agriculture Ministry by complying technical regulations of inventory administration, technical guidance on non-tax state revenue accounting called the PNBP and and technical guidance of PNPB.

These measures and policies are supported by the improvement of human resources (HR) financial section, the development of financial statement support applications, and accelerate completion of previous year of the BPK audit.

"There are no attempts and activities that violate ethics, I refuse to meet ministry officials according to the regulations. I believe the WTP Opinion has nothing to do with the bribery case," Mr Djalil told reporters here on Monday (June 6) after handed the Audit Report of BPK to Agriculture Minister Andi Amran Sulaiman.

Mr Djalil reminded the Indonesian people should not doubt the commitment of Minister Sulaiman and the ministry to carry out the task of achieving food self-sufficiency, and President Joko Widodo's attention to agriculture is huge because food is a top priority of national development.

"Do not hesitate. This is BPK's responsibility. I'm ready to argue with anyone. Alhamdulillah strategic food production is increasing. The goods are there, but there are still many speculators," he said.

Minister Sulaiman said the BPK gave the WTP Opinion for the Agriculture Ministry, as the first time after the last 10 years or since 2006 have got Opinion With Exception (WDP), and he appreciated the hard work civil servants in the ministry.

"The WTP Opinion of BPK is not a gift from heaven, and I promise anyone who tries to corrupt, meaning he is ready to leave the ministry. This achievement is the result of our hard work," Minister Sulaiman told reporters here on Monday (June 5).