`Veni, Vidi, Vici` a la Mentan Amran Sulaiman Atasi Kesulitan Petani
Indonesia´s Minister´s Quick Response Overcomes Drought in Madura Rice Fields
Editor : M. Achsan Atjo
Translator : Dhelia Gani

PUBLISHED: Kamis, 08 Juni 2017 , 06:37:31 WIB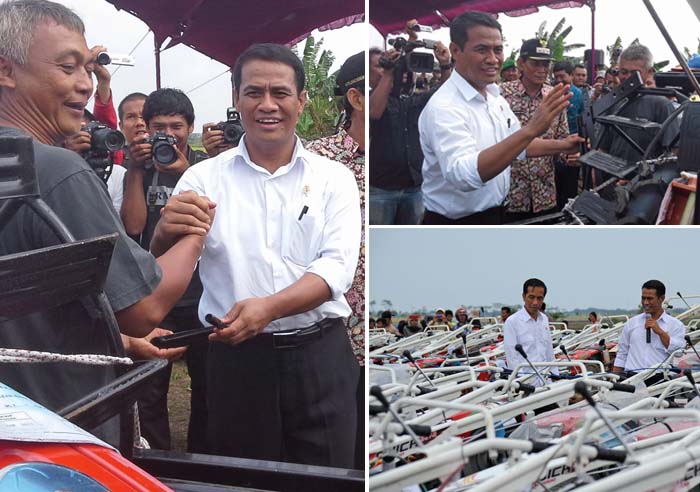 Mentan Andi Amran Sulaiman akrab dengan petani dan koordinasi di lapangan dengan Presiden RI Joko Widodo (Foto2: B2B/Mac)
KEGIATAN kunjungan kerja Menteri Pertanian RI Andi Amran Sulaiman di daerah kerapkali berlangsung di luar jadwal. Bercengkerama dengan buruh tani di Sragen, Jawa Tengah yang sedang panen padi atau petani muda Solok, Sumatera Barat yang mendadak mendapat bonus mesin traktor tangan lantaran rajin bekerja menyiangi kebun bawang adalah dua dari sekian banyak unscheduled pak menteri.

Saat rombongan Mentan Amran Sulaiman melaju ke Bangkalan, Jawa Timur dari Kabupaten Sumenep usai peluncuran Kartu Tani dengan Menteri BUMN Rini Soemarno, menteri asal Kabupaten Bone, Sulawesi Selatan meminta supir menghentikan mobilnya.

Apa yang menarik perhatiannya? Kalimat 'Lahan Tambah Tanam' pada sebuah tenda besar di tepi sawah di Desa Jrengik, Kabupaten Sampang, dan luas tambah tanam (LTT) merupakan gagasan Mentan Amran Sulaiman untuk mendorong peningkatan produksi padi pada masa paceklik.

Setelah berbincang dengan tim luas tambah tanam kabupaten, Amran Sulaiman memperhatikan kondisi persawahan yang mulai mengering, dia bertanya tentang ketersediaan air.

"Ini sawah tadah hujan," jawab Pelaksana Tugas (Plt) Bupati Sampang, Fadhil Budiono.

"Ada sungai di sini?" tanya Mentan.

"Ada, jaraknya 200 meter dari sini," kata Bupati Fadhil.

Mentan segera memanggil pejabat dan staf yang mendampinginya untuk segera mengirimkan 10 pompa air untuk mendukung penyediaan air di sawah.

"Jangan tunggu hujan sekali setahun. Sumber airnya dekat. Saya minta sebelum subuh nanti pompa airnya sudah tiba di sini," kata Mentan.

Menurutnya, respon cepat tersebut merupakan implementasi dari instruksi Presiden RI Joko Widodo untuk menyediakan kebutuhan petani seperti air untuk mengairi sawah.

"Ini sesuai pesan Presiden Jokowi, saya langsung realisasikan kebutuhan akan pompa air ini," katanya.

Kegiatan tak biasa pejabat tinggi setingkat menteri dari Jakarta sontak membuat para petani dan pejabat setempat bertepuk tangan atas keputusan cepat sang menteri.

Aksi spontan dan respon cepat ini layak disebut 'veni, vidi, vici' kalimat Latin terkenal dari Julius Caesar, yakni: 'Saya datang, saya melihat, saya telah menaklukkan' (mengatasi, red) setelah kaisar Romawi memenangkan Peperangan Zela atas Pharnaces II dari Pontus.
THE WORKING of Indonesian Agriculture Minister Indonesia Andi Amran Sulaiman outside Jakarta. For example mingling with farm laborers in Sragen, Central Java who are harvesting rice, or with young farmers in Solok, West Sumatra who suddenly received bonuses hand tractor machine for diligent work, are two of many unscheduled activities of Minister Sulaiman.

While he went to Bangkalan in East Java Province from Sumenep district after launched of Farmer Card with SOE Minister Rini Soemarno, minister from Bone district of South Sulawesi province suddenly asked driver to stop his car.

What attracted his attention? Sentence of 'Arable Land Expansion program' on a platoon tent in Jrengik village of Sampang District, while the program is his idea to increase rice production during the famine.

After talked with the related parties in the tent, Minister Sulaiman then noticed condition of the dry rice fields, he asked about the availability of water.

This is rain-fed rice field," said Acting Sampang Regent, Fadhil Budiono.

"Is there a river here?" asked Mr Sulaiman.

"There is a distance of 200 meters from here," said Regent Budiono.

Minister coordinated with officials and staff who accompanied him, and gave orders to immediately bring in 10 water pumps to support water supply.

"Do not wait for rain once a year, the water source is close, I ask before dawn the water pump will arrive here," he said.

According to him, his quick response is the implementation of President Joko Widodo's instruction to provide farmers' needs such as water to irrigate rice fields.

"This is in line with President Widodo's message, I immediately realized the needs of water pumps," Minister Sulaiman said.

The unusual activity of high officials from Jakarta instantly made the farmers and local officials applaud the minister's quick decision.

The spontaneous and quick response deserve to be called 'veni, vidi, vici' the famous Latin phrase from Julius Caesar: 'I came, I saw, I have conquered' (overcome, ed) after the Roman emperor won the Zela War over Pharnaces II of Pontus.