Mentan - Mendag Pastikan Pasokan dan Harga Pangan Stabil Jelang Lebaran
Indonesian Govt Ensure Sufficient Food Supply ahead of Eid
Reporter : Gusmiati Waris
Editor : Cahyani Harzi
Translator : Dhelia Gani

PUBLISHED: Senin, 19 Juni 2017 , 07:42:24 WIB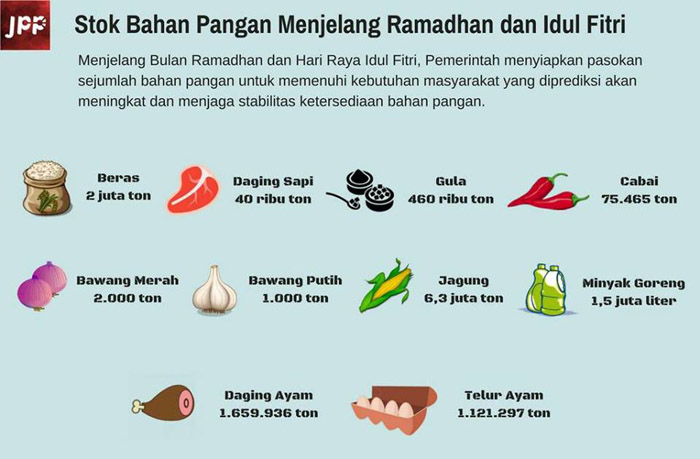 Data: Kementan dan Kemendag
Jakarta (B2B) - Pemerintah RI memastikan hasil produksi pertanian melebihi kebutuhan konsumen di seluruh Indonesia untuk memenuhi kebutuhan Ramadan dan Lebaran 2017, namun kelebihan pasokan mendorong penurunan harga pangan di beberapa daerah, maka Menteri Pertanian Andi Amran Sulaiman mengharapkan dukungan Kementerian Perdagangan dan Badan Urusan Logistik (Bulog) mengatasi masalah tersebut.

Mentan Andi Amran Sulaiman menegaskan bahwa Kementerian Pertanian mengembangkan lahan bawang merah dan cabai di Sumatera namun harganya jatuh. Sementara harga beras menjelang Lebaran 2017 masih tergolong normal tidak seperti tahun lalu yang merangkak naik meskipun pasokan mencukupi kebutuhan konsumen.

Hal itu mengemuka dari pantuan harga pangan oleh Mentan bersama Menteri Perdagangan Enggartiasto Lukita dan Gubernur DKI Jakarta Djarot S Hidayat pada Sabtu (17/6) di Pasar Induk Beras Cipinang (PIBC) dan Rumah Potong Ayam Cakung di Jakarta Timur.

"Kami harapkan dukungan Bulog untuk bergerak cepat menyerap hasil produksi pertanian khususnya cabai dan bawang merah,karena saat ini petani cabai dan bawang merah di Sumatera terus merugi," kata Menteri Sulaiman kepada pers.

Menurut Mentan, biasanya menjelang Lebaran harga beras merangkak naik seperti 2016 namun hal itu tidak terjadi tahun ini, karena pasokan beras melebihi kebutuhan konsumen dan harganya pun cenderung turun. Terbukti harga beras per kg di PIBC di kisaran Rp7.400 hingga Rp11.000 dan bawang putih Rp17.500 per kg.

Ancam Importir
Amran Sulaiman berharap Kementan dan Kemendag meningkatkan sinergi kedua kementerian didukung Bulog dan Pemprov DKI Jakarta dan para pemangku kepentingan untuk menjamin penyerapan produksi pangan hingga distribusi dan pemasaran kepada konsumen dengan harga yang terjangkau dan tetap menjaga kepentingan petani sesuai harga pembelian pemerintah (HPP).

"Kinerja pemerintah diapresiasi organisasi pangan dunia FAO karena Indonesia mampu memenuhi kebutuhan pangannya sendiri, tidak lagi tergantung produk impor. Saya ingatkan importir jangan coba-coba mencari keuntungan tidak wajar kalau tidak ingin dicabut ijin impor perusahaan, kalau perlu pemiliknya dicekal dari upaya membuat perusahaan baru," kata Mentan.

Mendag Enggartiasto menegaskan bahwa sinergi tersebut merupakan instruksi Presiden RI Joko Widodo agar kedua kementerian dan pihak terkait mengendalikan harga pangan didukung Polri melalui Satuan Tugas (Satgas) Pangan untuk mencegah dan menindak upaya sejumlah pihak yang memburu rente tanpa mempedulikan nasib petani dan kepentingan konsumen.

"Kami sudah menurunkan tim bersama Satgas Pangan ke 70 kabupaten dan kota yang diduga harga pangannya bergejolak, dan pemerintah akan mengawasi dan mengendalikan harga dengan meningkatkan distribusi dan pemasaran produksi petani," kata Enggar.
Jakarta (B2B) - The Indonesian government ensures agricultural production exceeds the needs of consumers across archipelago for basic food needs in Ramadan and Eid, but oversupply pushes down food prices in some areas and then Agriculture Minister Andi Amran Sulaiman expects support of the Trade Ministry National Logistics Agency (Bulog) support price control.

Minister Sulaiman said that the agriculture ministry developed production center of onion and chili in Sumatra but the price of both commodities is currently falling. While the rice prices ahead of Eid is still quite normal, unlike last year even though the supply is sufficient for consumers.

It was revealed of the food price monitoring activities by Minister Sulaiman with Trade Minister Enggartiasto Lukita and the Jakarta Governor Djarot S Hidayat at Jakarta's Cipinang Rice Central Market and Cakung's chicken slaughterhouse on Saturday (June 17).

"We expect Bulog to move quickly to buy agricultural products, as chili and shallot farmers in Sumatra are losing money," Mr Sulaiman told reporters.

According to Mr Sulaiman, ahead of Eid the rice prices usually rises as 2016 but it did not happen this year, because supply exceeds the needs of consumers so prices tend to fall. Proven rice prices per kg 7,400 rupiah to 11,000 rupiah while garlic about 17,500 rupiah per kg.

Cross-sectoral Synergies
Mr Sulaiman expects the ministry of agriculture and trade to increase synergies with Bulog and Jakarta Provincial Government and stakeholders to ensure interests of farmers and consumer needs.

"The government's performance is appreciated by FAO's world food organization after Indonesia is able to meet the needs of food without imported products Importers do not try to cheat irrespective of the farmers and consumers," he said.

Minister Lukita added that the synergy is an instruction of President Joko Widodo that both ministries and related parties control food prices supported by the Police through a food task unit to prevent cartel practices and stockpiling of basic needs.

"We have deployed teams in 70 districts and cities allegedly rising food prices, thus allowing the government to monitor and control prices," he said.