Kartu Tani Diluncurkan Mentan dan Menteri BUMN di Sumenep
Indonesia`s Farmer Card Launched for Support Food Food Self-sufficiency
Reporter : Gusmiati Waris
Editor : Cahyani Harzi
Translator : Dhelia Gani

PUBLISHED: Rabu, 07 Juni 2017 , 07:56:58 WIB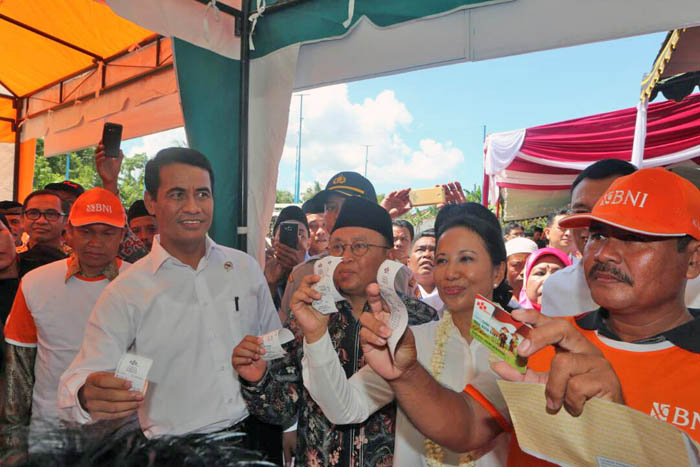 Mentan Andi Amran Sulaiman (ke-2 kiri) dan Bupati Sumenep Abuya Busyro Karim dan Menteri BUMN Rini Soemarno (ke-kanan) Foto: Humas Kementan
Jakarta (B2B) - Pemerintah RI meluncurkan Kartu Tani untuk Provinsi Jawa Timur yang dilakukan oleh Menteri Pertanian Andi Amran Sulaiman dan Menteri BUMN Rini Soemarno di Sumenep (6/6) hasil kerjasama Kementerian Pertanian dan Kementerian BUMN, kegunaan Kartu Tani sebagai sarana akses layanan perbankan terintegrasi yang berfungsi untuk simpanan, transaksi keuangan, penyaluran pinjaman hingga kartu subsidi atau e-Wallet.

"Kartu Tani merupakan implementasi dari instruksi Presiden Joko Widodo bahwa negara hadir di tengah masyarakat. Jangan biarkan petani berjalan sendiri, kami harus berada di sisi mereka untuk memberikan solusi," kata Mentan Amran Sulaiman saat peluncuran Kartu Tani yang dihadiri oleh para pimpinan bank BUMN yang tergabung dalam Himpunan Bank Negara (Himbara).

Mentan menjelaskan tentang keunggulan Kartu Tani antara lain single entry data, proses validasi berjenjang secara online, transparan, dan multifungsi. Ketersediaan data yang lengkap dan akurat tersebut bermanfaat sebagai dasar penyusunan kebijakan bagi Kementan. Kedua, transparansi penyaluran dana subsidi melalui sistem perbankan bagi Kementerian Keuangan.

Manfaat ketiga, kata Amran Sulaiman, memberikan data kebutuhan pupuk secara akurat hingga ke tingkat pengecer bagi PT Pupuk Indonesia Holding Company (PIHC). Keempat, bermanfaat bagi Badan Urusan Logistik (Bulog) untuk memproyeksikan potensi panen di suatu daerah melalui data pupuk subsidi yang disalurkan sehingga dapat segera menyerap hasil panennya.

"Petani pun dapat menerima dana bantuan secara utuh dan membeli pupuk bersubsidi sesuai kuota yang diberikan bagi petani. Kelima, dinas pertanian provinsi provinsi hingga kabupaten dan kota dapat mengetahui produktivitas lahan di suatu daerah. Singkat kata, Kartu Tani diharapkan menjadi era baru untuk mensejahterakan petani Indonesia," kata Mentan.

Sinergi Bank BUMN
Menteri Rini Soemarno menyampaikan apresiasi kepada para petani khususnya di Sumenep, dapat meningkatkan kesejahteraan para petani sebagai sarana sinergi BUMN bidang pertanian dan perbankan, untuk memenuhi kebutuhan petani meningkatkan produksi pertanian secara cepat, tepat, dan akuntabel.

"Saya apresiasi petani Sumenep, karena di sini yang paling komplit, semua syarat mendapatkan Kartu Tani bisa 100 persen dipenuhi petani di sini dalam waktu singkat, dan daerah lainnya belum. Makanya kita luncurkan untuk Jawa Timur adalah di Sumenep," kata Menteri BUMN.

Menurutnya, setelah Kementan sukses mendorong peningkatan produksi pertanian strategis untuk mencapai swasembada pangan, Kartu Tani diharapkan dapat mendorong konsistensi pemerintah untuk membuka peluang ekspor pangan dan pencapaian lumbung pangan dunia 2045.

Rini menambahkan bahwa Himbara yang terdiri atas Bank Mandiri, Bank Rakyat Indonesia (BRI), Bank Tabungan Negara (BTN), Bank Negara Indonesia (BNI) mendukung Kementan dalam pengembangan Kartu Tani, dan saat ini setiap bank BUMN mendapat tanggung jawab menangani satu provinsi. BNI untuk Jawa Timur, BRI di Jawa Tengah, Jawa Barat ditangani Bank Mandiri, dan BTN bertanggung jawab atas Banten.
Jakarta (B2B) - Indonesiang government launches launches the Farmer Card for East Java Province by Agriculture Minister Andi Amran Sulaiman and SOE Minister Rini Soemarno in Sumenep on Tuesday (June 6) developed by agriculture ministry and SOEs ministry, the card integrated banking services card for savings, transactions finance, and subsidy cards.

"The Farmer Card is an implementation of President Joko Widodo's instruction that the country is present for the people, do not let the farmers walk alone, the government is beside the farmers to provide solutions," said Minister Sulaiman.

Mr Sulaiman explained about benefits of Farmer Card such as single entry data, online validation process, transparent, and multifunctional. Complete and accurate data is useful as basis for drafting the agriculture ministry policy. Second, the transparency of subsidized funds through the banking system as database of finance ministry.

The third benefit, said Minister Sulaiman, the accuracy of fertilizer demand data to retailer level as database for Pupuk Indonesia Holding Company (PIHC). Fourth, it is beneficial for National Logistics Agency (Bulog) to projection the potential of harvest in a region through subsidized fertilizer data.

"Farmers can receive full grants, and buy subsidized fertilizers according to the quota given to farmers. Fifth, provincial to district and municipal agricultural service can know the productivity of land in an area. In short, Farmer Card are expected to be a new era for the welfare of Indonesian farmers," Minister Sulaiman said.

Synergy of State-owned Banks
Minister Rini Soemarno expressed his appreciation to the farmers, especially in Sumenep subdistrict to improve the welfare of farmers as a result of the synergy of SOEs in agriculture and banking, to meet the needs of farmers to increase agricultural production.

"I appreciate Sumenep farmers because here the most complete, all the requirements for the Farm Cards can be 100 percent fulfilled in a short time. We chose Sumenep for launch in East Java," Minister Rini said.

According to her, after the agriculture ministry has successfully encouraged the increase of strategic agricultural production to achieve food self-sufficiency, the Farmers Card is expected to encourage the government's consistency to open up food export opportunities and the achievement of 2045 world food barns.

Mrs Soemarno added that the Himbara consist of Mandiri Bank, Rakyat Indonesia Bank (BRI), Tabungan Negara Bank (BTN), Negara Indonesia Bank (BNI) and each state-owned bank are responsible for handling one province. BNI for East Java, BRI in Central Java, West Java handled by Bank Mandiri, and BTN responsible for Banten.