Jaga Kesuburan Tanah, Legislator DPR Usul Pupuk Urea Bersubsidi Diganti Organik
Indonesian MP Propose Organic Fertilizer Replace Urea to Maintain Soil Fertility
Reporter : Gusmiati Waris
Editor : Cahyani Harzi
Translator : Dhelia Gani

PUBLISHED: Senin, 12 Juni 2017 , 08:53:27 WIB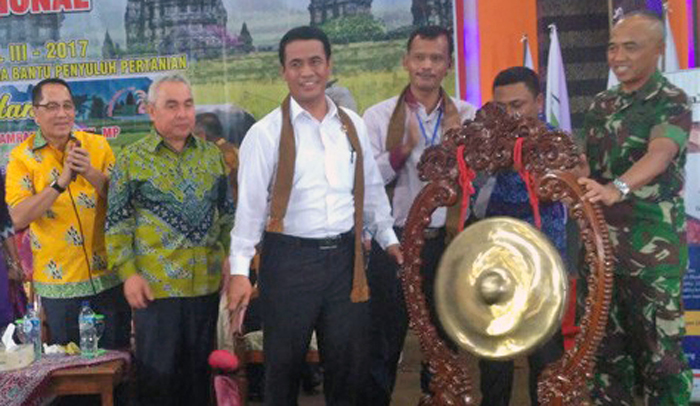 Anggota Komisi IV DPR Firman Soebagyo (batik kuning) menyertai kunker Mentan Andi Amran Sulaiman (kemeja putih) pada Munas THL-TBPP di Klaten, Jateng (Foto: istimewa)
Jakarta (B2B) - Legislator DPR Firman Soebagyo menilai banyak terobosan yang dilakukan Presiden RI Joko Widodo melalui Kementerian Pertanian RI untuk stop impor pangan dan memberikan bantuan Alsintan hampir 300.000 unit untuk petani di seluruh Indonesia, Anggota Komisi IV DPR ini mengingatkan Menteri Pertanian Andi Amran Sulaiman mengganti pupuk urea dengan pupuk organik untuk menjaga kesuburan tanah di lahan pertanian.

"Banyak terobosan penting dilakukan Mentan Amran Sulaiman untuk mencapai swasembada pangan seperti bantuan ratusan ribu unit Alsintan untuk petani, tapi Komisi IV berharap Kementan menghentikan penggunaan urea sebagai pupuk subsidi untuk petani, karena akan mempengaruhi kesuburan tanah," kata Firman Soebagyo dari Fraksi Partai Golkar ketika dihubungi Jakarta.

Menurutnya, dukungan Alsintan bagi petani berhasil meringankan kerja dan menghemat pengeluaran petani, pekerjaan menggarap lahan pertanian yang membutuhkan waktu berhari-hari dapat diselesaikan dalam satu hari, "bahkan sekarang banyak anak muda yang mau turun lagi ke sawah."

Firman Soebagyo menambahkan, hal penting lain adalah langkah Kementan melibatkan Kementerian Pekerjaan Umum dan Perumahan Rakyat (PUPR) untuk mendukung rehabilitasi dan pembangunan sarana irigasi pertanian, termasuk pengembangan embung untuk menampung air hujan dan air sungai.

"DPR berharap, pemerintah menghentikan penggunaan urea sebagai pupuk subsidi untuk petani, karena akan mempengaruhi kesuburan lahan pertanian. Subsidi pupuk urea kalau perlu dihilangkan dan diganti dengan pupuk organik," katanya.

Firman Soebagyo mengingatkan bahwa swasembada pangan bukan hanya tanggung jawab Mentan Amran Sulaiman, namun harus didukung para menteri di bawah koordinasi Menteri Perekonomian Darmin Nasution untuk meningkatkan koordinasi mendukung pembangunan sektor pangan.

"Keberhasilan Kementan untuk mencapai target yang ditetapkan Presiden Jokowi tidak bisa berdiri sendiri karena faktor-faktor pendukung lintas sektoral. Pertanian itu tidak akan bisa berbicara produksi ketika airnya tidak ada. Sebagus apapun bibit dan distribusi alat pertanian, tidak ada gunanya kalau tidak ada air," katanya lagi.

Menurutnya, Kementerian PUPR dan Kementerian Perdagangan harus berjibaku mendukung Kementan. "Pertanian tidak akan berhasil kalau tidak ada air. Kemendag harus mampu kendalikan impor, karena impor membuat petani menjadi malas. Nah, ini tugas Menko Perekonomian untuk mengendalikannya."
Jakarta (B2B) - Indonesian member of parliament (MP) Firman Soebagyo admitted that many breakthroughs made by President Joko Widodo through the Agriculture Ministry to stop food imports and free agricultural machinery nearly 300,000 units for farmers across the country, and Mr Soebagyo as the Commission IV member reminds Agriculture Minister Andi Amran Sulaiman to replace urea fertilizer with organic fertilizer to maintain soil fertility.

"Many breakthroughs were made by Minister Sulaiman for food self-sufficiency as hundreds of thousands of farming machines are free for farmers, but the House hopes the ministry to stop using urea as fertilizer subsidy, because it will affect soil fertility," said Mr Soebagyo of Golkar Party Faction here recently.

According to him, the support of free farming machines for farmers succeeded in easing the work and saving farmers' expenses, working on agricultural land that took days to complete in one day, "even now many young people want to go to the rice fields."

Mr Soebagyo added another important thing is the ministry step involving the Public Works and People's Housing Ministry support rehabilitation and development of agricultural irrigation facilities, including basin retention development for rainwater harvest and river water.

"The House hopes the government will stop using urea as fertilizer subsidy for farmers because it will affect the fertility of agricultural land. We recommend urea fertilizer subsidies be removed and then replaced with organic fertilizer," he said.

Mr Soebagyo reminded food self-sufficiency is not only responsibility of Minister Sulaiman, but must be supported by Coordinating Minister for the Economy Darmin Nasution improve the coordination of food sector development.

"The success of reaching the target of President Widodo can not stand alone, because of the cross-sectoral support factor, agriculture will fail if there is no water even though the seeds and farm equipment are good," he said.

According to him, other ministries should support national food development. "The Trade Ministry must control imports because it makes farmers lazy, well this is the Coordinating Minister for Economic Affairs to control it."