14 Tewas Akibat Minum Miras Oplosan di Kemayoran
14 Dead after Drank Mixed Liquor in Kemayoran
Reporter : Rusdi Kamal
Editor : Ismail Gani
Translator : Novita Cahyadi

PUBLISHED: Sabtu, 24 Agustus 2013 , 00:03:00 WIB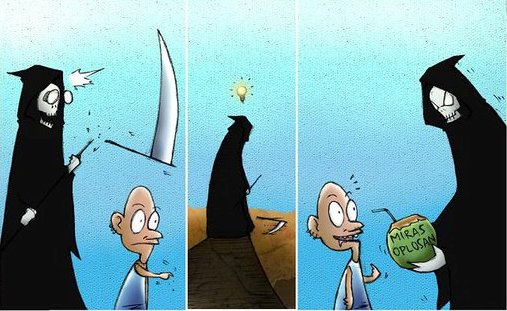 Ilustrasi: indonesiacrazypicture.com
Jakarta (B2B) - Sekitar 14 orang dilaporkan tewas akibat mengkonsumsi minuman keras oplosan yang dijual di kios jamu milik Rendy.

Kepala Bidang Hubungan Masyarakat Polda Metro Jaya, Komisaris Beswar Rikwanto mengatakan 14 orang tewas dan tiga lainnya menjalani perawatan medis.

"Semula korban tewas dalam kasus ini hanya berjumlah sembilan orang," kata Rikwanto.

Korban tewas itu adalah Joko Pitono, 39; Ishak Maulana,20; Adi Ferdinan, 26; Saifudin, 32; Sopar, 32; Sofyan, 35; Maripin 35; Sutrisno, 34 dan seorang lagi yang belum diketahui namanya.

Kesembilan korban tewas tersebut beserta dua korban yang selamat dirawat di RS Islam Cempaka Putih. Belakangan, jumlahnya bertambah lagi. Namun Rikwanto tak membuka identitas dari lima korban lainnya.

Tersangka Rendy, pemilik toko jamu di Jalan Remaja III Nomor 12, Sumur Batu, Kemayoran, Jakarta Pusat saat ini ditahan di Mapolres Jakarta Pusat. Rendy mengaku meracik minuman keras oplosan selama 8 tahun. Padahal sebelumnya dia membuka usaha jamu tradisional.
Jakarta (B2B) - Fourteen people have reportedly died after consuming mixed liquor (known as miras oplosan) sold at an herb stall owned by a man named Rendy.

Head of Jakarta Police Public Relations Division, Sr. Com. Rikwanto said 14 people died and three others are injured.

"Initially, nine people reportedly died after consuming the mixed liquor," Rikwanto said.

They are Joko Pitono, 39; Ishak Maulana,20; Adi Ferdinan, 26; Saifudin, 32; Sopar, 32; Sofyan, 35; Maripin, 35; Sutrisno, 34 and an unidentified victim. They have all been taken to Cempaka Putih Islamic Hospital.

The number of the victims has reportedly risen. Rikwanto declined to reveal the identity of the other five victims.

Meanwhile, Rendy who owns the stall located at Remaja Street III No. 12, Sumur Batu, Kemayoran, Central Jakarta, is now being arrested at Central Jakarta police.

Rendy admitted to have been practicing liquor mixing for eight years. Previously, he ran a traditional herb business.