Kartu Pintar DKI: SD Rp180 Ribu, SMP Rp210 Ribu dan SMA Rp240 Ribu
Smart Card DKI: 180 for SD, 210 for SMP, and 240 for SMA
Reporter : Rusdi Kamal
Editor : Heru S Winarno
Translator : Intan Permata Sari

PUBLISHED: Minggu, 02 Desember 2012 , 10:10:00 WIB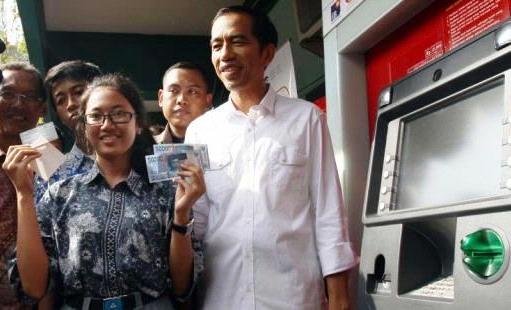 Gubernur DKI Jakarta bersama siswa SMA setelah peluncuran Kartu Jakarta Pintar (Foto: kompas.com)
Jakarta (B2B) - Siswa Sekolah Menengah Atas (SMA) dan Sekolah Menengah Kejuruan (SMK) di DKI Jakarta menyambut gembira dibagikannya 3.013 Kartu Jakarta Pintar (KJP) bagi siswa di 111 sekolah di DKI Jakarta.

Untuk tahap awal, Pemerintah Provinsi DKI Jakarta hanya membagikan KJP hanya dibagikan kepada siswa tingkat SMA/SMK sedangkan tahap berikutnya untuk siswa di seluruh tingkatan. Besaran uangnya per bulan, untuk siswa SD sebesar Rp180 ribu, SMP (Rp210 ribu) dan SMA/SMK (Rp240 ribu).

Siswa kelas tiga SMA Islam Al-Jihad di kawasan Johar Baru, Jakarta Pusat, mengaku sangat senang menerima dana bantuan pendidikan tersebut. Terlebih orangtuanya berasal dari keluarga tak mampu, sehingga bantuan itu dirasa sangat membantu kebutuhan sekolahnya.

"Sangat membantu, karena uang itu bisa digunakan untuk kebutuhan sekolah. Seperti membeli buku, sepatu, seragam sekolah dan sebagainya. Kartu ini juga dapat digunakan sampai saya lulus sekolah. Saya juga memanfaatkan ini untuk tabungan," ujar Nita, Sabtu (1/12).

Perasaan gembira juga dirasakan Dapot Hutauruk (17) siswa Kelas 3 IPS 1 Yappenda, Kebonbawang, Tanjungpriok, Jakarta Utara. Ia yang berasal dari keluarga tidak mampu mengaku senang dengan dana bantuan pendidikan tersebut.

"Biasanya kalau mau beli seragam saya nabung dulu, tapi sekarang bersyukur sudah dapat Kartu Jakarta Pintar, dan uangnya bisa ditabung untuk dipakai yang lain," katanya.

Gubernur DKI Jakarta, Joko Widodo mengatakan, penerima Kartu Jakarta Pintar ini lebih banyak sekolah swastanya yaitu 13 sekolah negeri dan 98 sekolah swasta.

"Karena di sana banyak orang yang tidak mampu. Kartu ini memang diberikan bagi siswa dari keluarga miskin, agar mereka tidak putus sekolah," ujar Jokowi.

Ia juga meminta agar penggunaannya tepat sasaran, Dinas Pendidikan DKI, guru dan orangtua murid ikut melakukan pengawasan. Pemprov DKI juga akan menerapkan manajemen kontrol, mengingat uang yang dikucurkan itu nilainya mencapai miliaran rupiah.

Kepala Dinas Pendidikan DKI Jakarta, Taufik Yudi Mulyanto menambahkan, uang yang diberikan hanya untuk membantu memenuhi kebutuhan sekolah. Sebab, dana yang dibagikan itu adalah dari dana rawan putus sekolah. "Dana itu untuk operasional tiap siswa," tandasnya.
Jakarta (B2B) - Students of senior high school and vocational school in DI Jakarta happily welcome the distribution of 3,013 Jakarta Smart Cards for students in 111 schools in Jakarta.

For initial stage, DKI Jakarta provincial administration only distributes cards for students of senior high school and vocational schools, next year, students of all education levels will receive the card. The monthly cash is varied, for elementary school, it is Rp180,000, for junior high school, it is Rp 210,000, and for senior high
school/vocational school, it is Rp 240,000.

A third grade student of SMA Islam Al-Jihad in Johar Baru, Central Jakarta, says that she is very happy to receive such donation because her family is of low economy class, hence the donation is very necessary to alleviate her school fee.

"It helps very much because I can use the money for school need, such as buying books, shoes, uniforms, etc. I can use the card until I graduate from school. I can also use this as my saving account," said Nita on Saturday (1/12).

Dapot Hutauruk (17), third grade student of IPS 1 Yappenda, Kebonbawang, is also glad. He comes from low-economy class and he feels grateful for the donation.

"I used to save my money first before buying uniforms, but I am grateful that I have received the Smart Card and I can save my money for other needs," he said.

Governor of DKI Jakarta, Joko Widodo, says that most of the schools receiving the card are private schools, consisting of 13 state schools and 98 private schools.

"Lots of poor students go to those schools. The card is distributed for students from low-economy class so that they do not drop out of school," said Jokowi.

He also demanded that it should hit the right target. DKI Jakarta Education Agency, teachers, and parents should also supervise. The provincial administration will also apply supervision management, given that the money disbursed reaches millions of rupiah.

Chair of DKI Jakarta Education Agency, Taufik Yudi Mulyanto, adds that the donation is only for fulfilling school needs because it is taken from fund for dropout students. "It is for each student's needs," he concluded.