Mentan: BPK tidak `Update` Data Sensus untuk Audit Daging Impor
Minister of Agriculture: BPK does not `Update` Census Data for Audit Beef Imports
Reporter : Gusmiati Waris
Editor : Cahyani Harzi
Translator : Novita Cahyadi

PUBLISHED: Kamis, 11 April 2013 , 16:01:00 WIB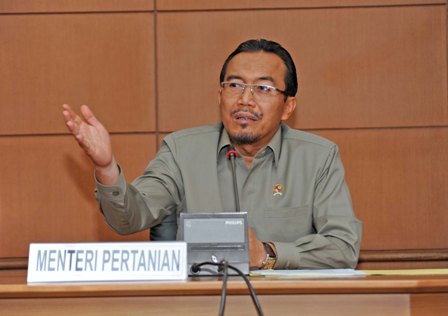 Mentan Suswono saat meninjau Pasar Sleman di Yogyakarta (Foto: B2B/Mya)
Jakarta (B2B) - Badan Pemeriksa Keuangan (BPK) dinilai menggunakan data sensus lama untuk mengaudit impor daging sapi yang diindikasikan terjadi penyimpangan. Padahal Kementerian Pertanian merujuk pada data sensus terkini dari Badan Pusat Statistik (BPS), tapi BPK masih menggunakan data sensus yang lama sehingga Kementan dituding melakukan penggelembungan biaya.

Menteri Pertanian Suswono mengatakan, hasil audit BPK menyatakan terjadi penggelembungan anggaran, karena tidak mempertimbangkan data dari hasil sensus terbaru yang dirilis BPS.

"Kementerian Pertanian punya roadmap awal Januari 2010. Ada pula roadmap untuk swasembada sapi yang mengacu pada sensus tersebut. Selanjutnya, ada lagi sensus di tahun 2011. Namun BPK tidak melakukan update data sensus," kata Suswono kepada pers di kantornya, Kamis (11/4).

Tenaga Ahli Kementan, Dedi Junaidi menambahkan, BPK telah dua kali memeriksa laporan penggunaan anggaran di Kementan. Pertama, pada bulan November 2011. Pemeriksaan kedua dilakukan pada November hingga Desember 2012.

"Pada tahap pertama, BPK mengambil data roadmap 2010 kemudian dilakukan sensus pada 2011 oleh BPS yang hasil sensusnya dirilis bulan Juni 2011. Meskipun sudah ada hasil sensus terbaru, tapi hal itu tidak dipertimbangkan oleh BPK," kata Dedi.

Menurutnya, hasil audit BPK mengindikasikan terjadi penggelembungan, karena sensus yang terakhir tidak dipertimbangkan. "BPK masih pakai data lama."

Sebelumnya, dalam laporan Ikhtisar Hasil Pemeriksaan Sementara (IHPS), Badan Pemeriksa Keuangan (BPK) menemukan pelanggaran dan penyimpangan terkait impor daging sapi. BPK menemukan adanya kelebihan kuota impor daging sapi dalam tiga dan empat tahun terakhir.
Jakarta (B2B) - The Supreme Audit Board (BPK)assessed using old census data for beef imports audit indicated irregularities. In fact the Ministry of Agriculture refers to the latest census data from Central Bureau of Statistics (BPS), but BPK still use the old census data, so that the Ministry of Agriculture accused inflate costs.

Agriculture Minister Suswono said the BPK audit results stated occurred inflate the budget, because it does not consider the data from the latest census results released by BPS.

"The Ministry of Agriculture has roadmap early January 2010. There is also a roadmap for self-sufficiency in beef which refers to the census. Subsequently, another census in 2011. However BPK did not update the census," said Suswono told reporters at his office on Thursday (11/4).

Expert of Ministry of Agriculture, Dedi Junaidi added that BPK has twice the budget utilization reports from Ministry of Agriculture. First, in November 2011. Second examination conducted in November to December 2012.

"In the first phase, BPK retrieve roadmap in 2010 and then conducted a census in 2011, the BPS census results released in June 2011. Despite the recent census results, but it was not considered by the BPK," said Dedi.

He said the BPK audit results indicate occurred inflate the budget, because the last census was not taken into consideration. "BPK still use old data."

Earlier, in the meantime Examination Results Summary report (IHPS), BPK found violations of rules and irregularities budget for imported beef. BPK found an excess of quotas on imports of beef in three and four years.