Haji, Jamaah yang Batal Berangkat Diprioritaskan di 2014
Pilgrims Set Off in 2013 to be a Priority in 2014
Reporter : Gusmiati Waris
Editor : Ismail Gani
Translator : Novita Cahyadi

PUBLISHED: Kamis, 20 Juni 2013 , 03:33:48 WIB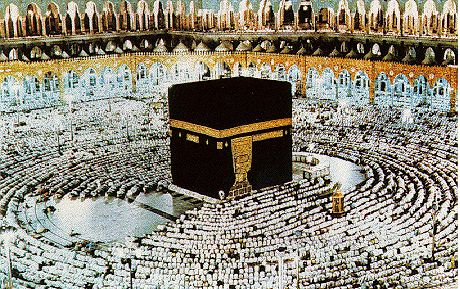 Foto: hizbut-tahrir.or.id
Jakarta (B2B) - Kementerian Agama memastikan bahwa jamaah calon haji yang batal berangkat tahun ini akibat pemotongan kuota oleh pemerintah Arab Saudi akan mendapat prioritas untuk berangkat pada 2014.

Direktur Jenderal Penyelenggaraan Haji dan Umroh di Kementerian Agama, Anggito Abimanyu mengatakan bahwa mereka juga tidak akan dikenai biaya tambahan untuk pemberangkatan pada 2014.

"Calon jamaah haji yang terkena kuota akan prioritas berangkat pada 2014," kata Anggito Abimanyu saat membuka pembekalan petugas haji di Asrama Haji Pondok Gede, Jakarta, Rabu (19/6).

Ia juga menegaskan bahwa mereka yang batal berangkat tahun ini tidak akan kena biaya tambahan untuk pemberangkatan tahun depan. "Yang berangkat 2014 tidak akan dikenai biaya tambahan lagi."

Lebih lanjut Anggito mengatakan bahwa calon haji yang kemungkinan akan terkena penundaan keberangkatan adalah jamaah lansia dan yang memakai kursi roda.

"Itu demi keamanan dan kesehatan jamaah," kata Anggito yang menyebutkan bahwa keputusan tersebut belum final karena pemerintah Indonesia masih melobi pemerintah Arab Saudi untuk membatalkan pemotongan kuota tersebut.

"Lobi sudah berjalan. Kalaupun permintaan pembatalan tidak dikabulkan, kita minta kuota haji 2014, 120 persen," ujar Anggito.

Pada 6 Juni kementerian haji Arab Saudi mengirim surat yang menyatakan bahwa jamaah haji seluruh dunia dipotong 20 persen, sebagai akibat dari belum selesainya renovasi Masjidil Haram.

Akibat pemotongan tersebut, maka kuota jamaah calon haji reguler Indonesia yang semula 194.000 orang akan berkurang menjadi 155.000 orang, sedangkan yang khusus dari 17.000 menjadi 13.500 orang.
Jakarta (B2B) - The Ministry of Religious Affairs to ensure that pilgrims pilgrims who set off this year due to quota cuts by the government of Saudi Arabia will get priority to depart in 2014.

Director General of Hajj and Umrah at the Ministry of Religious Affairs, Anggito Abhimanyu said that they were also will not subject to additional charges for departure in 2014.

"Prospective pilgrims affected by the quota will priorities set out in 2014," said Abhimanyu Anggito when opened briefing officer Hajj pilgrimage in Pondok Gede, Jakarta, Wednesday (19/6).

He also confirmed that they are void left this year will not subject to additional charges for departure next year. "The 2014 set will not be charged extra again."

Anggito further said that the pilgrims are likely to be affected by the departure delay is elderly pilgrims, and in a wheelchair.

"It's for the safety and health of pilgrims," said Anggito stating that the decision was not final because the Indonesian government is lobbying the Saudi Arabian government to cancel the quota cuts.

"The lobby is already running. Even if the cancellation request is reject, we ask Hajj quota 2014 to reach 120 percent," said Anggito.

On June 6, the ministry of Hajj Saudi Arabia sent a letter stating that the pilgrims around the world cut 20 percent, as a result of the completion of renovation of the Grand Mosque.

As a result of these cuts, then the regular pilgrim quota Indonesian pilgrims who originally 194,000 people would be reduced to 155,000 people, while the special of 17,000 to 13,500 people.