Jakarta akan Kembangkan Sistem Zonasi Parkir
Jakarta will Create a Parking Zone System
Reporter : Rahmat Kartolo
Editor : Cahyani Harzi
Translator : Dhelia Gani

PUBLISHED: Selasa, 16 Juli 2013 , 09:19:00 WIB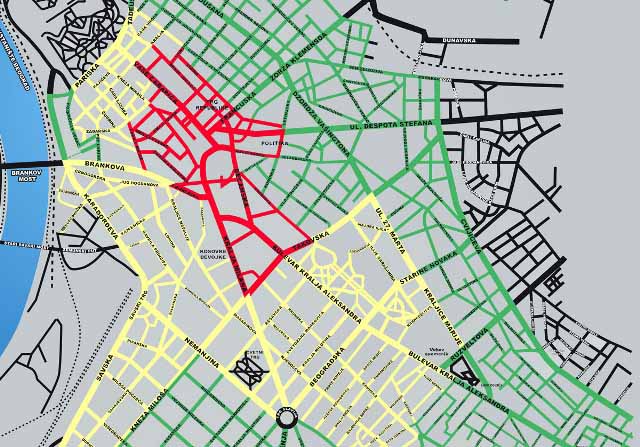 Pengaturan zonasi parkir di Budapest, Hungaria, warna merah menunjukkan kawasan parkir termahal di ibukota Hungaria tersebut (Foto: parking-servis.co.rs)
Jakarta (B2B) - Pemerintah Provinsi DKI Jakarta mengumumkan rencana untuk membuat desain zonasi untuk mengatur tarif retribusi parkir sesuai dengan volume kendaraan. Kebijakan ini dimaksudkan untuk mengurai kemacetan lalu lintas di Jakarta.

"Semakin dekat parkir ke sebuah kawasan yang merupakan pusat kemacetan, semakin mahal tarif parkirnya," kata Wakil Gubernur DKI Jakarta, Basuki Tjahja Purnama (Ahok) setelah buka puasa bersama di Kecamatan Kebon Jeruk, Jakarta Barat, Senin (15/7).

Sebaliknya, jika parkir di kawasan pinggiran kota, maka tarif parkir yang harus dibayar akan lebih murah. Di kawasan tersebut, Ahok melanjutkan, seseorang dapat parkir sepanjang hari dan biayanya hanya Rp5.000.

"Dari area parkir tersebut, pengguna kendaraan dapat melanjutkan perjalanan nya dengan bus," katanya.

Dalam waktu dekat, pemerintah daerah akan melakukan uji coba di kawasan pemukiman Kelapa Gading, Jakarta Utara. Sistem parkir zonasi akan menggunakan mesin yang menerapkan tarif parkir per jam. Sementara menyiapkan mesin pencatat parkir, pemerintah juga akan menyiapkan hukum yang mengatur rencana tersebut.

"Karena kita berpikir tentang membuat kawasan rawan kemacetan yang dinyatakan sebagai kawasan tertutup," kata mantan Bupati Belitung Timur.
Jakarta (B2B) - Jakarta Provincial Government announced about to create a zoning design to arrange parking retribution tariffs according to the vehicle density. The policy is meant to reduce Jakarta´s traffic jam.

"The closer a driver parks to a spot that is a center of traffic jam, the more expensive he would have to pay," Ahok explained after attended ´iftar´ (breaking fast) in the Kebun Jeruk sub-district, West Jakarta, on Monday (July 15), 2013.

On the contrary, if a driver parks at the outskirts, the parking tariff he would have to pay would be cheaper. At the sub-urban, Ahok continued, a person can park there all day long and only pay around Rp5,000.

"From that parking spot, a person could then continue his or her trip with a bus," he said.

In the near future, the regional government will conduct trials in the Kelapa Gading Housing, North Jakarta. The zoning parking system will use a machine that implements a per-hour parking tariff. While setting up the machines, the government will also prepare the laws regulating the plan.

"This is because we have just thought about the possibility of main roads being positioned as off-streets," said the former regent of East Belitung.