Bergaya dengan Tas Mahal
Stylish with Expensive Bag
Editor : Heru S Winarno
Translator : Parulian Manalu

PUBLISHED: Selasa, 19 Februari 2013 , 02:05:25 WIB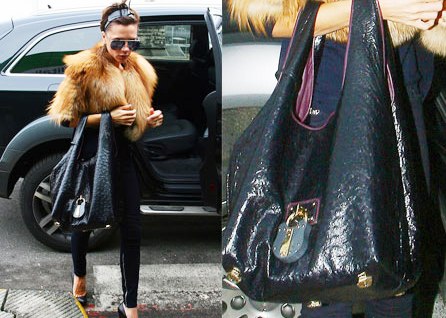 Victoria Beckham dengan koleksi tas mahalnya (Foto: carrellistudio.com)
TAS merupakan salah satu perlengkapan yang paling disukai wanita. Berbagai motif dan merek tas disajikan dengan kualitas tinggi.

Banyak kaum hawa yang rela merogoh kocek demi mewujudkan keinginan memiliki sebuah tas yang terbaru meski harganya selangit. Kebanyakan dari mereka mengaku hanya mengikuti tren yang ada, terutama bagi kalangan selebritis papan atas dunia maupun lokal.

Berikut berbagai merek tas dengan harga termahal di dunia saat ini.

1. 1001 Night Diamond Purse
Tas yang satu ini dianggap sebagai tas tangan termahal di dunia karena terbuat dari emas 18 karat dan dihiasi oleh sekitar 4.517 berlian dan diberi harga 2,35 juta poundsterling (Rp34 miliar). Berlian yang menghiasi tas ini terdiri dari 105 berlian berwarna kuning, 56 berwarna pink dan 4.356 berlian putih. Berat berlian di tas tersebut totalnya 381,92 karat.

2. Chanel 'Diamond Forever' Classic Bag
Tas dengan model klasik ini terdiri dari 334 berlian dengan total 3,56 karat dan 18 karat emas putih. Pada talinya dilapisi emas putih sehingga membuat tas ini lain dari yang lainnya. Tas ini dibandrol dengan harga US$261 ribu (Rp2,2 miliar) dengan stok yang tersedia 13 buah di seluruh dunia.

3. Hermes Matte Crocodile Birkin Bag
Tas ini dilelang dengan harga US$120 ribu (Rp1 miliar lebih). Selain terbuat dari kulit buaya asli, tas ini juga dihiasi dengan berlian 10 karat.

4. Lana Marks Cleopatra Bag
Marks meluncurkan Cleopatra clutch bag edisi terbatas yang terbuat dari kulit buaya berwarna perak metalik. Pada bagian atas tas bertahtakan 1500 berlian hitam dan putih serta 18 karat emas putih. Tas ini dihargai senilai US$100 ribu (Rp853 juta).

5. Leiber Precious Rose
Tas ini diberi nama 'The Precious Rose' dan merupakan sebuah aksesoris yang memang sangat berharga. Dibuat menyerupai bunga mawar, tas ini dihiasi 1.016 berlian dengan total 42,56 karat, 1.169 batu safir berwarna merah muda dan 800 kristal tourmalines. Tas ini diberi harga US$92 ribu (Rp784 juta).
HANDBAG is one of the accessories most preferred by women. Various styles and brands handbags of high quality are presented.

There are a lot of women who are willing to spend money in order to realize their desire to own the newest handbag even though the price is high. Most of them admit that they are just following the newest trend, especially those amongst world top as well as local top celebrities.

Here are a variety of the most expensive handbag brands in the world today.

1. 1001 Night Diamond Purse
This bag is considered to be one of the most expensive handbags in the world because it is made of 18 carat gold and decorated with around 4.517 diamonds and it given a price of 2,35 million pound sterling (Rp 34 billion). The diamonds which adorn this bag consist of 105 yellow colored diamonds, 56 colored pink and 4.356 white diamonds. The total weight of the diamonds on the bag is 381,92 carats.

2. Chanel "Diamond Forever" Classic Bag
This Bag with a classical model consist of 334 diamonds totaling 3.56 carats and 18 carat white gold. The strap is plated with white gold plated so that it makes this bag unique. This bag is priced at US$ 261 thousand (Rp 2,2 billion) with an available stock of 13 pieces worldwide.

3. Hermes Matte Crocodile Birkin Bag
This bag was auctioned at a price of US$ 120 thousand (Rp 1 billion). Apart form being made out of genuine alligator leather, this bag is also adorned with a 10 carat diamond.

4. Lana Marks Cleopatra Bag
Marks has launched the limited edition of Cleopatra clutch bag made out of metallic silver colored alligator skin. The top of the bag is crowned with 1500 black and white diamonds and 18 carat white gold. This bag is priced at US$ 100 thousand (Rp 853 million).

5. Leiber Precious Rose
This bag is called 'The Precious Rose' and constitutes an accessory which is definitely very valuable. Created to resemble a rose, this bag is decorated with 1.016 diamonds totaling 42,56 carats, 1.169 light red colored sapphires and 800 tourmalines crystals. This bag is priced at US$ 92 thousand (Rp 784 million).