Balitbang Kemtan Sosialisasikan Kalender Tanam Terpadu 2013
The Research & Development of the Ministry of Agriculture Socialization Integrated Planting Calendar 2013
Reporter : Gusmiati Waris
Editor : Ismail Gani
Translator : Novita Cahyadi

PUBLISHED: Kamis, 14 Februari 2013 , 12:19:00 WIB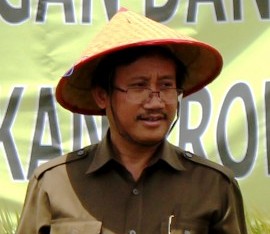 Kepala Badan Penelitian dan Pengembangan (Balitbang) Kementerian Pertanian, Dr Haryono (kanan berkacamata) Foto: tribunnews.com
Jakarta (B2B) - Kalender Tanam Terpadu Musim Tanam (Katam Terpadu MT-2/2013 memberikan alternatif pergiliran tanaman jagung atau kedelai menggantikan tanaman padi, sesuai dengan kondisi iklim dan ketersediaan airnya. Pasalnya, di berbagai kecamatan, jumlah curah hujan pada MT-2 cenderung menurun dan tidak mencukupi kebutuhan tanaman padi, namun mungkin cukup bagi tanaman jagung atau kedelai.

Penegasan itu dikemukakan Kepala Badan Penelitian dan Pengembangan (Badan Litbang) Kementerian Pertanian, Dr Haryono saat meluncurkan sekaligus sosialisasi Katam Terpadu MT-2/2013 di kantornya di kawasan Pasar Minggu, Jakarta Selata, Kamis (14/2).

"Katam Terpadu MT-2/2013 lebih terpadu, dilengkapi dengan informasi tentang pola dan waktu tanam padi dan palawija, beserta rekomendasi varietas dan pemupukannya," kata Haryono kepada pers.

Dia menambahkan, setiap pemerintah daerah baik provinsi maupun kabupaten dapat lebih efektif dalam perencanaan dan penyiapan pola dan waktu tanam yang lebih tepat dan efektif.

Dengan memanfaatkan informasi Katam Terpadu MT-2/2013, kata Haryono, diharapkan produksi padi dapat dicapai dengan tingkat risiko kekeringan seminimum mungkin, dibarengi dengan pemanfaatan lahan sawah dapat lebih optimal melalui penanaman jagung atau kedelai.
Luas Areal Tanam Padi Sawah Berdasarkan Sifat Hujan di Bawah Normal mencakup 1,55 juta hektar meliputi wilayah Sumatera, wilayah timur Jawa, Bali-NTB, Sulawesi Tengah, Maluku dan wilayah utara Papua. Sifat Hujan di Atas Normal mencakup 0,76 juta hektar meliputi wilayah barat Sumatera, Kalimantan Tengah dan wilayah selatan Papua. Sifat hujan Normal mencakup luas 2,95 juta hektar adalah selain wilayah di atas.
Jakarta (B2B) - Integrated Planting Calendar Planting season (Integrated Katam MT-2/2013) provides an alternative to corn or soybean crop rotation replacing rice crop, according to the climatic conditions and the availability of water. Because, in many districts, the amount of rainfall in the MT-2 tended to decline and is not sufficient for the rice crop, but it may be enough to corn or soybeans.

The assertion was made by the Head of Research and Development (R & D Agency) Ministry of Agriculture, Dr Haryono, the launch and dissemination of Integrated Katam MT-2/2013 in his office at the Pasar Minggu, South Jakarta, Thursday (14/2).

"Integrated Katam MT-2/2013 more integrated, provides information on the pattern and timing of planting rice and secondary crops, varieties and fertilization with recommendations," said Haryono told reporters.

He added that each local government both provincial and district can be more effective in planning and preparation of planting pattern and timing more precise and effective.

Integrated use of information Katam MT-2/2013, said Haryono, rice production is expected to be achieved with minimum risk level of drought, accompanied wetland utilization can be optimized through the corn or soybean planting.

Rice Planting Area Based on the The nature of Rain in the Lower Normal covering 1.55 million hectares includes Sumatra, eastern Java, Bali-Nusa Tenggara, Central Sulawesi, Maluku and Papua northern region. The nature of Rain, Above Normal covering 0.76 million hectares, includes the western region of Sumatra, Central Kalimantan and southern region of Papua. The nature of Normal rain covers 2.95 million hectares is other than the above areas.