Impor Hortikultura Dibatasi Kementan, untuk Lindungi Petani
Horticulture Imports Restricted Ministry of Agriculture to Protect Farmers
Reporter : Gusmiati Waris
Editor : Cahyani Harzi
Translator : Dhelia Gani

PUBLISHED: Kamis, 28 Februari 2013 , 19:25:00 WIB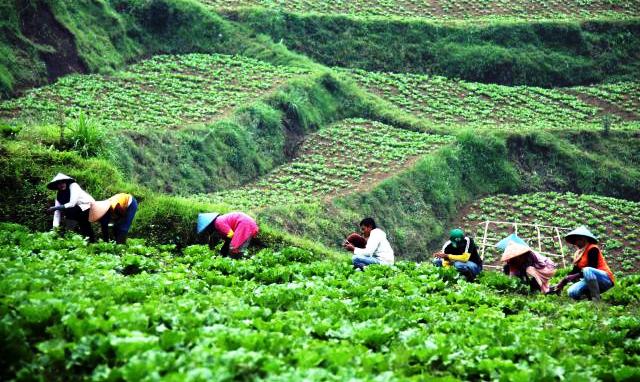 Petani hortikultura di Bali (Foto: bali-bisnis.com)
Jakarta (B2B) - Kementerian Pertanian melalui Direktorat Jenderal Pengolahan dan Pemasaran Hasil Pertanian hanya memberikan izin impor pada 10 komoditas hortikultura yang boleh masuk ke Indonesia. Sementara 13 produk holtikultura lain dilarang diimpor yaitu kentang, kubis, wortel, cabe, nanas, melon, pisang, mangga, pepaya, durian, krisan, anggrek, dan heliconia yang bertujuan melindungi kepentingan petani dan ekonomi nasional.

Pelaksana Tugas (Plt) Direktur Jenderal Pengolahan dan Pemasaran Hasil Pertanian Kementerian Pertanian, Haryono mengatakan, ke-10 komoditas adalah bawang bombay, bawang merah dan bawang putih buah-buahan seperti; jeruk siam, jeruk mandarin, lemon, grapefruit/pamelo, anggur, apel dan lengkeng.

"Izin ini diberikan berdasarkan pemasukan permohonan Rekomendasi Impor Produk Hortikultura Segar untuk konsumsi periode Januari-Juni 2013," kata Haryono kepada pers di Jakarta, Kamis (28/2).

Menurut dia, di Indonesia ada sekitar 300 komoditas hortikultura namun hanya sekitar 90 sampai 92 komoditas yang diperdagangkan.

Dari jumlah itu, tambahnya, 20 komoditas yang diatur dalam Permentan nomor 60 Tahun 2012. Dari 20 komoditas tersebut ada tujuh komoditas hortikultura yang dibatasi jumlah kuota impornya masuk ke Indonesia sampai 30 Juni 2013.

"Pengaturan impor itu dibolehkan untuk melindungi produk lokal. Negara lain juga menerapkannya," katanya.
Jakarta (B2B) - The Ministry of Agriculture through the Directorate General of Processing and Marketing of Agricultural only gave permission to 10 horticultural commodities imports are allowed into Indonesia. While 13 others banned imported horticultural products are potatoes, cabbage, carrots, peppers, pineapple, melon, banana, mango, papaya, durian, chrysanthemums, orchids and and heliconia that aims to protect the interests of farmers and the national economy.

Duty executor (Acting) Director General of Processing and Marketing of Agricultural Ministry of Agriculture, Haryono said, the 10 commodities are onions, shallots and garlic fruits such as tangerine, mandarin orange, lemon, grapefruit/pamelo, grape, apple and longan.

"Permission is granted upon request Recommended Fresh Horticultural Products Import for consumption from January to June period of 2013," said Haryono to reporters in Jakarta, Thursday (28/2).

According to him, in Indonesia there are about 300 horticultural commodity, but only about 90 to 92 commodities were traded.

Of that amount, he added, 20 commodities Permentan number 60 set in 2012. Of the 20 commodity seven horticultural commodities which limited the number of quota imports to Indonesia until June 30, 2013.

"The setting it allowed imports to protect local products. Another country also apply it," he said.