Menteri Pertanian Suswono `Blusukan` di Pasar Hewan Jember
Agriculture Minister Suswono `Inspection` in Jember Animals Market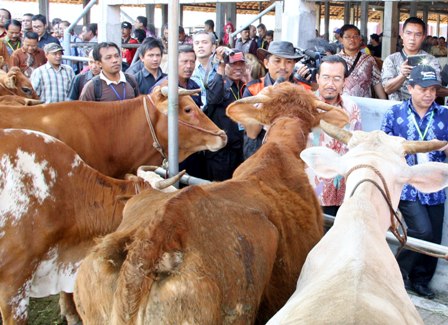 "Tahun ini impor sapi dikurangi, kini hanya 500 ribu ekor melalui peningkatan populasi sapi di dalam negeri hingga 90 persen," kata Suswono dalam Kontes Sapi dan Inseminasi Buatan di Jember, Jawa Timur.
"This year, beef imports is reduced, now only 500 thousand head of cattle through increasing population in the country by 90 percent," said Suswono in the Contest Cattle and Artificial Insemination in Jember, East Java.
KEMENTERIAN Pertanian berupaya menekan impor sapi dengan meningkatkan populasi ternak sapi nasional untuk mencapai target swasembada daging pada 2014.
AGRICULTURE Ministry trying to reduce imports of beef by increasing the national cattle population to achieve self-sufficiency in meat in 2014.