Gerakan `La Via Campesina` Bertujuan Wujudkan Kedaulatan Pangan
`La Via Campesina` Movement Aims to Achieve Food Sovereignty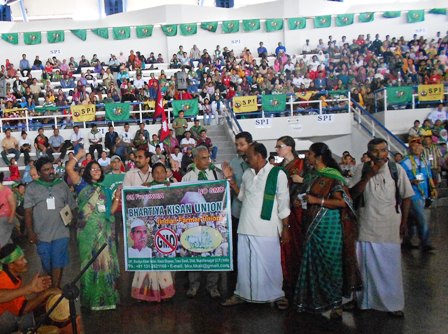 Perwakilan dari organisasi petani India, Bhartiya Kisan Union pada pembukaan Konferensi Internasional ke-6 Organisasi Petani Dunia di Padepokan Pencak Silat, TMII, Minggu (9/6) oleh Menteri Pertanian Suswono.
Representatives of farmer`s organizations of India, Bhartiya Kisan Union at the opening of the 6th International Conference on the World Farmers Organization in the building Pencak Silat, TMII, Sunday (9/6) by Agriculture Minister Suswono.
MENTERI Pertanian Suswono menyatakan dukungan pada gerakan La Via Compensia, untuk menyampaikan aspirasi petani dalam mewujudkan Kedaulatan Pangan.
AGRICULTURE Minister Suswono expressed support for the La Via Compensia, to convey the aspirations of farmers in achieving food sovereignty.