Pelabuhan Merak Dipadati Pemudik Menuju Sumatera
Ahead of Eid, Indonesian Private Cars Throng Merak Ferry Port in Banten
Editor : Ismail Gani
Translator : Novita Cahyadi

PUBLISHED: Minggu, 27 Juli 2014 , 03:21:46 WIB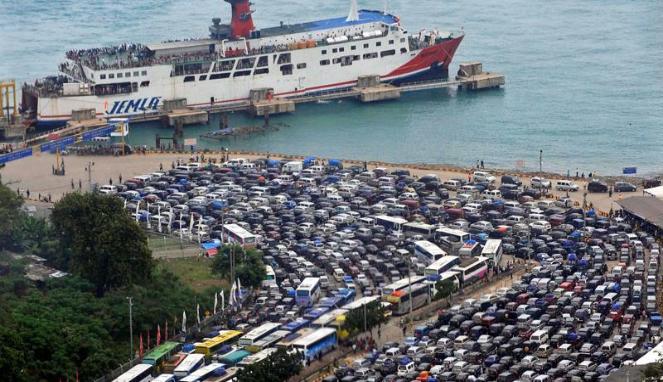 Antrean mobil pribadi di Pelabuhan Merak, Banten (Foto: menit.tv)
Merak (B2B) - Pelabuhan penyeberangan Merak, Banten dipadati pemudik menggunakan kendaraan pribadi yang hendak menuju Pulau Sumatra memadati dermaga dan kantung parkir di Pelabuhan Merak, Banten.
Berdasarkan pantauan, H-2 atau Sabtu (26/7), ribuan pemudik pengguna kendaraan pribadi yang tiba dari berbagai daerah di Pulau Jawa menumpuk di dermaga dan kantung parkir Pelabuhan Merak untuk diseberangkan ke Pelabuhan Bakauheni, Lampung.
Antrean kendaraan terjadi sejak Sabtu dinihari hingga pagi, masih memadati Pelabuhan Merak. Kemungkinan siang hari kendaraan pribadi terus berdatangan untuk menyeberang ke Pelabuhan Bakauheni, Lampung.
"Kami mengantre sejak pukul 05.30 WIB hingga kini belum diseberangkan karena terjebak macet di Jalan Cikuasa Atas," kata Syamsudin, seorang pengendara mobil pribadi yang warga Bandung dan hendak mudik ke Palembang.
Menurut dia, kepadatan kendaraan tersebut karena datang secara bersamaan sehingga daya kapasitas dermaga dan parkir tidak tertampung. Pihak ASDP Merak menambah jumlah lahan parkir maupun dermaga.
Saat ini, kata dia, kondisi Pelabuhan Merak seringkali terjadi penumpukan kendaraan. "Kami berharap ASDP setempat bisa menambah lahan parkir dan dermaga untuk menampung kendaraan pemudik," katanya.
Begitu pula, Jakaria, pemudik bertujuan Padang, Sumatera Barat, mengatakan dirinya bersama keluarga tiba di Pelabuhan Merak sejak pagi dan hingga saat ini masih mengantre di dermaga. "Kami berharap siang ini bisa diseberangkan ke Pelabuhan Bakauheni, Lampung," katanya.
Petugas Humas PT ASDP Merak Mario Sardadi Oetomo mengatakan saat ini jumlah pemudik pejalan kaki maupun pengguna kendaraan pribadi meningkat. Bahkan, peningkatan kendaraan terjadi sejak malam hingga dinihari. "Kami memperkirakan pada H-2 Lebaran ini, pemudik masih memadati Pelabuhan Merak," katanya. (Ant)
Merak, Banten (B2B) - Ahead of Eid, post-fasting travelers cars intending to cross the Sunda Strait to Sumatra, packed the Merak Ferry Port here on Saturday, or two days before the Idul Fitri, or Lebaran festivities next Monday and Tuesday.
Thousands of Idul Fitri travelers using their private cars that came from various regions in Java accumulated at the ports piers and parking areas waiting for their turn to be ferried to Bakauheni ferry port in the eastern tip of Sumatra, according to an Antara correspondent monitoring this years Lebaran exodus there.
Since early hours on Thursday the private cars have flocked to and been in queues at the ferry port.
"We have been waiting for our turn to get on the ferry since 5.30 am. We are trapped in the traffic jam," Syamsuddin, a traveler with his own car heading to Palembang in South sumatra said.
He said that travelers on private cars arrived simultaneously so that they could not be accommodated as they exceeded the capacity of the piers and parking areas.
The Inland Waterway Transportation Service PT ASDP should increase the capacity of the Merak Ports parking lots and increase the number of its piers, he added.
"We hope the ASDP would increase the number of piers and capacity of the parking areas for Lebaran travelers," Syamsuddin added.
Jakaria, another Idul Fitri holiday traveler departing for Padang, West Sumatra province, arrived early in the morning but he was still waiting for embarking on a ferry.
"We hope we could get on the ferry by midday to cross to Bakauheni port in Sumatra," Jakaria noted.
PT ASDP Public Relations for Merak Port Mario Sardadi Oetomo remarked that the number of pedestrian and private car passengers had increased.
Idul Fitri travelers, who are also called pemudik had been increasing since Friday night. "We predict that the in-coming travelers will continue to increase today and pack the port," Oetomo asserted.