SBY 9 Tahun Berkuasa, Utang Bertambah Rp724 Triliun
President SBY 9 Years of Rule, the Debt Increased Rp724 Trillion
Reporter : Rizki Saleh
Editor : Cahyani Harzi
Translator : Dhelia Gani

PUBLISHED: Senin, 08 Juli 2013 , 04:29:57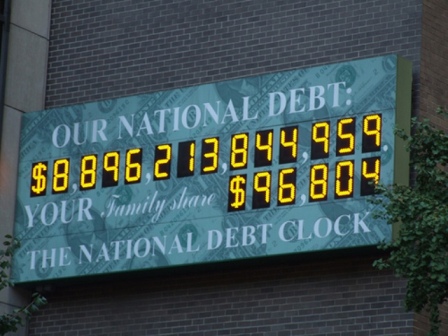 Pemerintah AS mengumumkan utang pemerintah melalui billboard besar yang di tempat umum dan pusat keramaian untuk mengingatkan rakyat AS tentang utang negaranya (Foto: lowyinterpreter.org)
Jakarta (B2B) - Koalisi Anti Utang (KAU) mengritik jumlah utang luar negeri pemerintah Indonesia, yang meningkat tajam selama Presiden Susilo Bambang Yudhoyono (SBY) berkuasa sejak 2004 hanya Rp1,299 triliun namun naik menjadi Rp2.023,72 triliun hingga April 2013.

Ketua KAU, Dani Setiawan mengatakan selama pemerintahaan SBY, jumlah utang bertambah Rp724,22 triliun, dan total utang pemerintah Indonesia hingga April 2013 telah mencapai Rp2.023,72 triliun.

"Penambahan utang hingga Rp724 triliun itu sangat besar. Belum lagi ditambah utang-utang baru yang belum cair, saya berani katakan peningkatannya bisa mencapai hampir Rp1.000 triliun nanti kalau melihat penurunan nilai tukar rupiah," kata Dani Setiawan dalam diskusi Kemandirian Bangsa bertajuk 'Kebijakan Pro Asing+Utang SBY=Negara Bangkrut!' di Jakarta, Minggu (7/7).

Dia menambahkan, meskipun Direktorat Jenderal Pengelolaan utang Kementerian Keuangan bulan lalu melansir data yang menangkan publik bahwa pengendalian utang sudah terkontrol hingga 2033, KAU menemukan fakta berbeda.

Penambahan utang luar negeri selama era SBY , menggerus anggaran negara dan mengurangi belanja sektor publik. Buktinya anggaran kemiskinan, imbuh Dani, saat 2005 ketika SBY baru setahun berkuasa, sebesar Rp 23 triliun. Pada 2013, akumulasi kenaikannya hanya Rp 115 triliun.

"Kalau kita bandingkan, peningkatan utang di era SBY Rp 724 triliun, sementara akumulasi anggaran kemiskinan hanya Rp 115 triliun, ini jelas ada ketimpangan akibat utang kita," paparnya.
Jakarta (B2B) - Anti-Debt Coalition (KAU) criticized the number of Indonesian government debt, which rose sharply during President Susilo Bambang Yudhoyono (SBY) in charge since 2004 only Rp1, 299 trillion, but rose to Rp2.023, 72 trillion by April 2013 .

KAU chairman, Dani Setiawan said during SBY governance, the amount of debt increased Rp724, 22 trillion, and total government debt of Indonesia until April 2013 has reached Rp2.023, 72 trillion.

"The addition of up to Rp724 trillion debt is very large. Yet added new debts are not liquefied, I dare say the increase could reach nearly Rp1.000 trillion, referring to the decline in the rupiah exchange rate," said Dani Setiawan in the discussion of National Independence the policy titled pro foreign debt + SBY = state bankrupt in Jakarta, Sunday (7/7).

He added, though the Directorate General of Debt Management, Ministry of Finance last month launched the data to pacify the public that can be controlled by controlling debt 2033, KAU find different facts.

The addition of foreign debt during the era SBY, undermine the state budget and reduce public sector spending. The proof, poverty budget, said Dani, a year when the new SBY came to power in 2005, the number Rp23 trillion, but by 2013, the cumulative increase is only Rp115 trillion.

"If we compare, the debt increased in the SBY era Rp724 trillion, while the accumulation of poverty only Rp115 trillion budget, there is a clear imbalance due to our debt," he said.