TNI AL Diminta Menko Polhukam Perketat Keamanan Ladang Gas Blok Masela
Indonesian Govt Asked the Navy to Increase Security in the Masela Gas Block
Reporter : Gusmiati Waris
Editor : Cahyani Harzi
Translator : Dhelia Gani

PUBLISHED: Rabu, 16 September 2015 , 23:50:47 WIB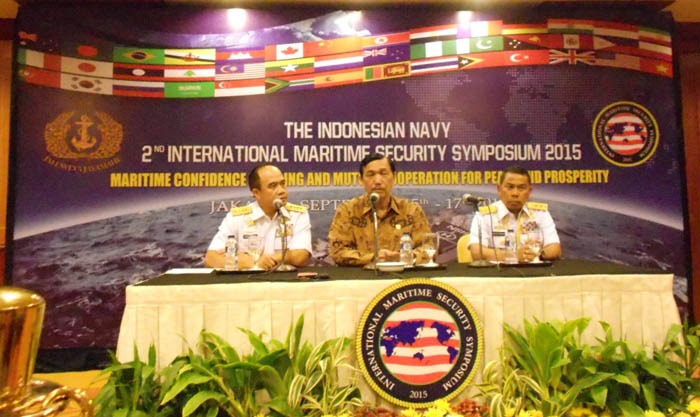 Menko Polhukam Luhut Binsar Panjaitan (tengah) dan Kasal Laksamana Ade Supandi (kiri) Foto: B2B/Mya
Jakarta (B2B) - Menteri Koordinator Politik, Hukum dan Keamanan (Menko Polhukam) Luhut Binsar Panjaitan meminta TNI AL mendukung pengamanan ladang gas di Blok Masela, Maluku dengan mendirikan pangkalan angkatan laut mengingat posisinya dekat dengan Australia dan Papua Nugini.

"Lokasi Blok Masela antara Ambon dan Papua, sebagai salah satu cadangan gas terbesar di Indonesia, karena dekat dengan Australia dan Papua Nugini," kata Luhut di Jakarta pada Rabu (16/9) kepada pers di sela kegiatan Simposium Keamanan Maritim Internasional ke-2 (IMSS 2015).

Permintaan Menko Polhukam pada TNI AL terkait cadangan gas 15,22 TCF meskipun sampai saat ini belum berproduksi, perlu dipikirkan pendirian pangkalan angkatan laut (Lanal) dan Luhut meminta TNI AL untuk melakukan pengkajian terlebih dahulu.

Sementara terkait IMSS 2015, Kepala Staf TNI AL (Kasal) Laksamana TNI Ade Supandi mengakui semakin beragamnya jenis ancaman mengakibatkan situasi keamanan laut menjadi lebih kompleks, khususnya kejahatan lintas negara semakin memperbesar risiko terhadap keamanan laut, sehingga negara-negara di dunia perlu meningkatkan kerjasama menghadapi ancaman terhadap keamanan maritim.

"Dari simposium ini diharapkan dapat mengidentifikasi tantangan dan peluang dari lingkungan strategis terkait dengan keamanan maritim serta meningkatkan peluang kerjasama antarnegara untuk menciptakan keamanan laut," kata Ade Supandi.

Kegiatan IMSS 2015 diikuti oleh pimpinan angkatan laut dari 42 negara di dunia yang berlangsung hingga Kamis (17/9) di Hotel Borobudur Jakarta.
Jakarta (B2B) - Coordinating Minister for Political, Legal and Security Affairs of Indonesia, Luhut Binsar Panjaitan asked the Navy to support security of gas fields in the Masela Gas Block of Moluccas by establishing a naval base, due to its location close to Australia and Papua New Guinea.

"Masela gas block located in Ambon and Papua, one of Indonesia's largest gas reserves," Minister Panjaitan told reporters here on Wednesday at the 2015 International Maritime Security Symposium (IMSS 2015).

The statement of Mr Panjaitan associated gas reserves of 15.22 TCF although until now has not produced, should be considered to establish a naval base and the minister asked the Navy for conducting assessments first.

While related to 2015 IMSS, Indonesian Navy Chief of Staff, Admiral Ade Supandi recognizes the increasingly diverse types of threats resulted in a more complex maritime security, especially transnational crime against the security of the sea, so that the countries in the world need to increase cooperation to face the threat to maritime security.

"From the symposium is expected to identify challenges and opportunities of the strategic environment related to maritime security, and increased opportunities for cooperation between countries," Admiral Supendi said.

The 2015 IMSS was followed by naval leaders of 42 countries in the world that takes place today until tomorrow (09/17) at the Hotel Borobudur Jakarta.